Katherine Jones RA – Collagraphs 2010 – 2022
21 September – 21 October 2022
We are delighted to celebrate the election of Katherine Jones to the Royal Academy of Arts in 2022 with an 'Artist in Focus' selection of prints in the gallery looking back to her early career as a printmaker, and taking in more recent projects.
A comprehensive catalogue of more than 60 prints by Katherine Jones are available. Please request an illustrated price list.
Contact [email protected]
catalogue - katherine jones collagraphs 2010 - 2022
The Iron in the Earth: 2020 - 2021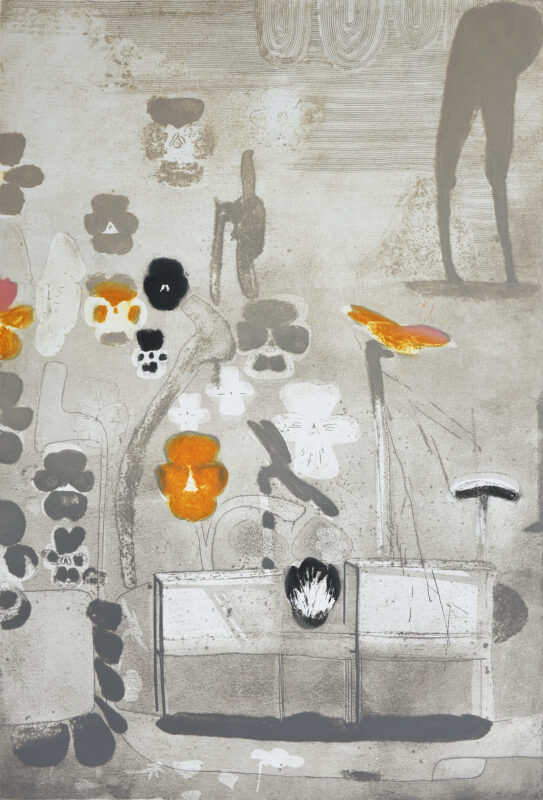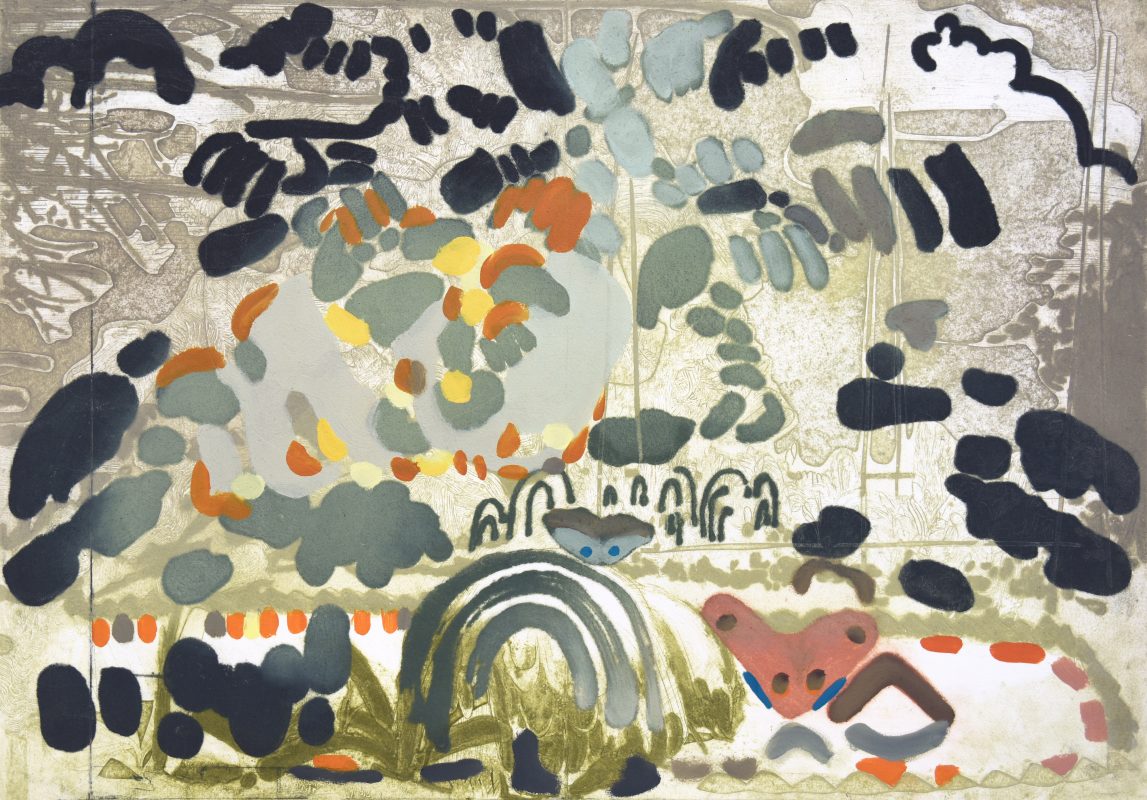 Katherine Jones – High and Tipping, 2020. Collagraph and Block print on paper, 74 x 96 cm, Edition 15.
A patch of earth holds the promise of growth and renewal. High and Tipping by Katherine Jones is drawn directly from the artist's allotment onto mount board and printed in vivd colour. Retaining spontaneity, it refers to the closing days of July where the plants begin to tip after a long summer month. This original work on paper has recently been donated to the Pallant House Gallery permanent Print Collection.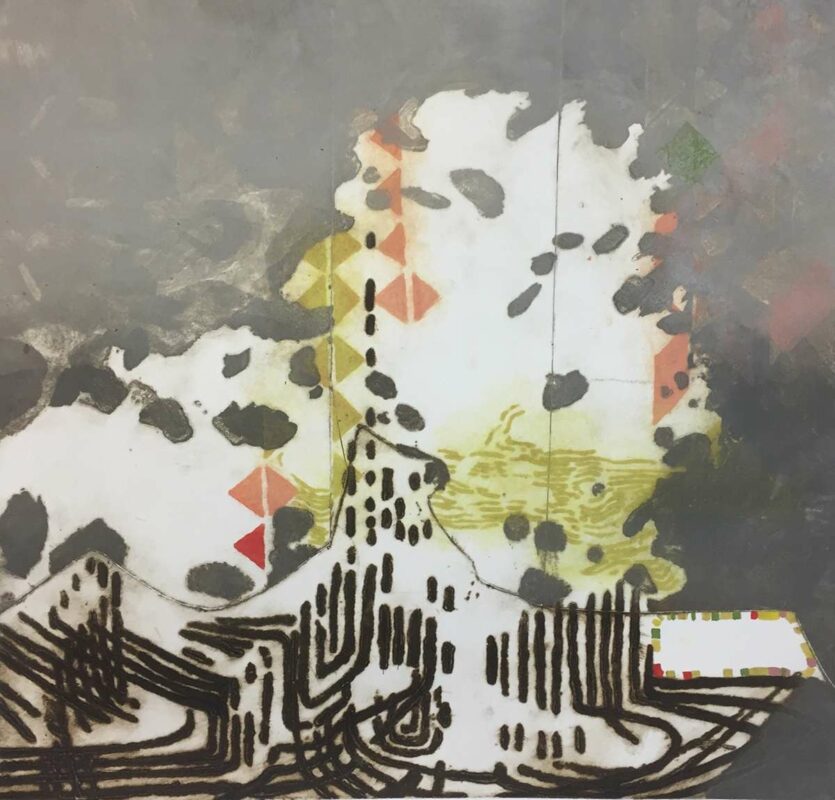 The Precious hours, 2017 - 2018
Words by Fiona Robinson, 2018
There are quiet obsessions, undercurrents, that run through the work and practice of printmaker Katherine Jones: line, vulnerability, connections with the written word, time. She is a deeply serious artist, making work in which illusive ideas shimmer on the surface and in the depths of her luminous prints.
The Precious Hours is the culmination of a year-long residency at Rabley Drawing Centre near Marlborough. Jones has dipped in and out of the location gathering information, absorbing the landscape, the structure of buildings and the changes in the weather. She has also had access to larger presses than she has at her London studio, which has allowed her to make big work. It has been a hugely fruitful time. She has been enveloped in the beautiful Wiltshire landscape, experienced life on a working farm, and has benefitted enormously from the nurturing atmosphere and support of the Director of Rabley, Meryl Ainslie.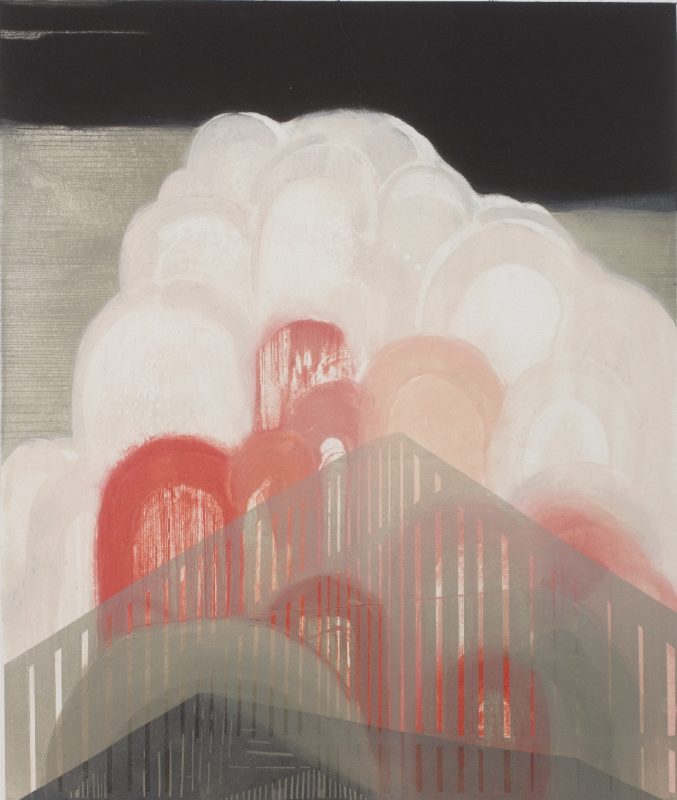 Image: Katherine Jones in her Brixton studio. Image credit Katherine Jones RA (Elect) b1979. Photography Josephine Dixon.
Rabley Gallery Online Print Shop
Delivery times will be extended to 14 days during September
All prices are for unframed prints, subject to availability and include UK tax where applicable.
RABLEY GALLERY
Rabley Drawing Centre
Marlborough, Wiltshire, SN8 2LW
T +44 (0)1672 511999