Eileen Cooper RA – Early Etchings, Linocuts and Gravures 1982-1992
21 September – 21 October 2022
Rabley Gallery presents an exciting selection of Eileen Cooper RA's early artworks. These rare early etchings, linocuts and gravures by Eileen Cooper RA mark a pivotal period in the artist's development as a printmaker in the 1980s and 1990s.
During this time, she worked with master printmaker Hugh Stoneman and his co-publisher Sara Lee at the radical Print Centre in North London. Stoneman and Lee ensured that, through the intrinsic artistic qualities of print media, Cooper found a very special relationship between image and material.
Viewings can be arranged via our booking calendar, or feel free to contact the gallery to arrange a date and time to visit.
Email:  [email protected]
Tel:  +44 (0)1672 511999
An exhibition catalogue of prints by Eileen Cooper RA is available to view below.
Catalogue - Rare Early Etchings, Linocuts and Gravures 1982 - 92
Words by Eileen Cooper RA from Eileen Cooper: BETWEEN THE LINES, 2015
"During the 1980s and 1990s, already established as a career artist and with a gallery promoting and showing my work, I had the opportunity to begin making prints. In terms of process and media, this was an important discovery as it offered me a rich and challenging new language with which to work. Printmaking taught me to think in layers. I adore the subtlety and authority of the different print media. I also adore the workshop banter and collaborations, finding another pair of willing hands and the shared experience."
Words by Sara Lee from Eileen Cooper: BETWEEN THE LINES, 2015
"Cooper made her first suite of multi-plane etchings in 1990. Bright and full of energy, the prints include the exuberant Stepping Out and All Hell Let Loose, in which two female figures, one violet, the other sienna, hotfoot it across a yellow ground. Representing her then, Benjamin Rhodes included the six finished prints in the exhibition Paintings, Drawings and Prints (1990) at his London gallery. They were the first of Cooper's prints to be shown and reproduced in a catalogue."
Words by Sara Lee from Eileen Cooper: BETWEEN THE LINES, 2015
"It was around this time that Eileen Cooper saw the seminal Shiko Munakata exhibition at the Hayward Gallery, London. The dynamic large-scale woodcuts were an exciting revelation and the catalogue from the show became a favourite and inspirational reference for her. German Expressionist prints and especially those y Käthe Kollwitz, with her masterful handling of cutting, have also been influential, as have the powerful mother-and-child images by Mary Cassat.
Using lino for a second series of large colour prints, Eileen Cooper quickly responded to cutting directly into the pliant surface and immediately felt it suited her strong linear approach. Made with key line block printed in a dark tone with back up blocks of strong confident colour, these vibrant prints include Homecoming, The Moon, The Bird and the Bride, and the iconic Dreamland (all 1992)."
New Acquisition – TATE Gallery
Eileen Cooper RA – Woman Examining Her Shadow,
1989-90, Oil on Canvas, 152.5 x 167.5 cm
The Tate Gallery adds an early painting by Eileen Cooper RA into their permanent collection. In 'Woman Examining Her Shadow', the artist depicts an early focus on strong female figuration and mysticism.
Her works on paper and prints from this period are featured on this page.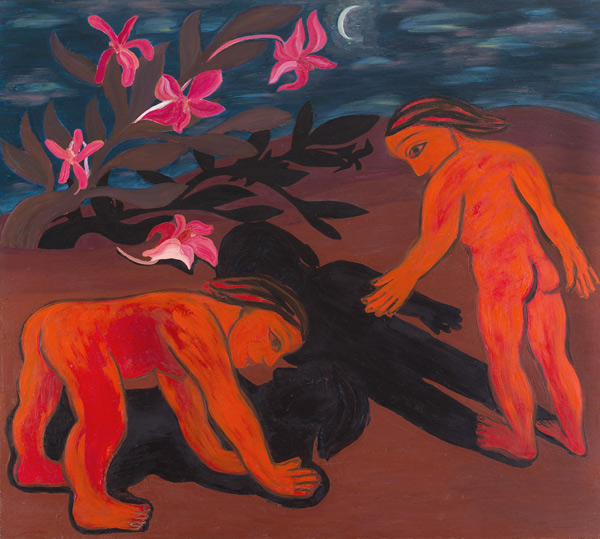 Rabley Gallery Online Print Shop
Delivery times will be extended to 14 days during September
All prices are for unframed prints, subject to availability and include UK tax where applicable.
RABLEY GALLERY
Rabley Drawing Centre
Marlborough, Wiltshire, SN8 2LW
T +44 (0)1672 511999