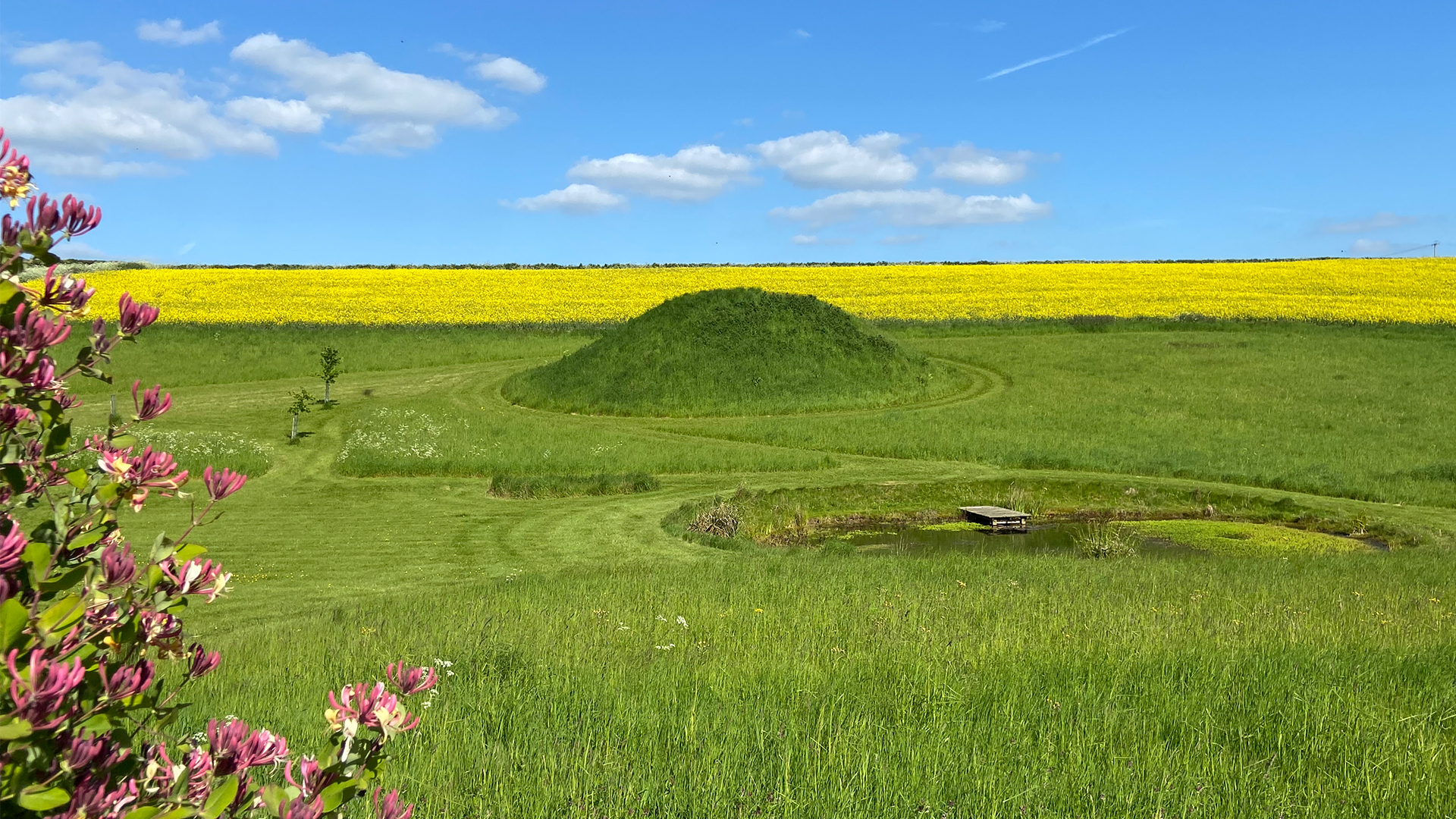 Marlborough Open Studios
1st, 2nd, 8th, 9th July (11.00AM – 17.00PM)
Rabley Gallery / Studio 29
Rabley Drawing Centre, Mildenhall, Marlborough, SN8 2LW

Rabley Gallery is opening its doors for two weekends this July for the annual Marlborough Open Studios. Open Studios is a rare opportunity for the public to visit the hidden world of local artists in their studios, workshops or pop-up galleries. It is free of charge and focuses on artists across Wiltshire and the North Wessex Downs.
Rabley Gallery will be hosting the work of two local artists in Rabley Gallery's East Gallery:
Meryl Setchell Ainslie
&
Simone Dawood
No booking required.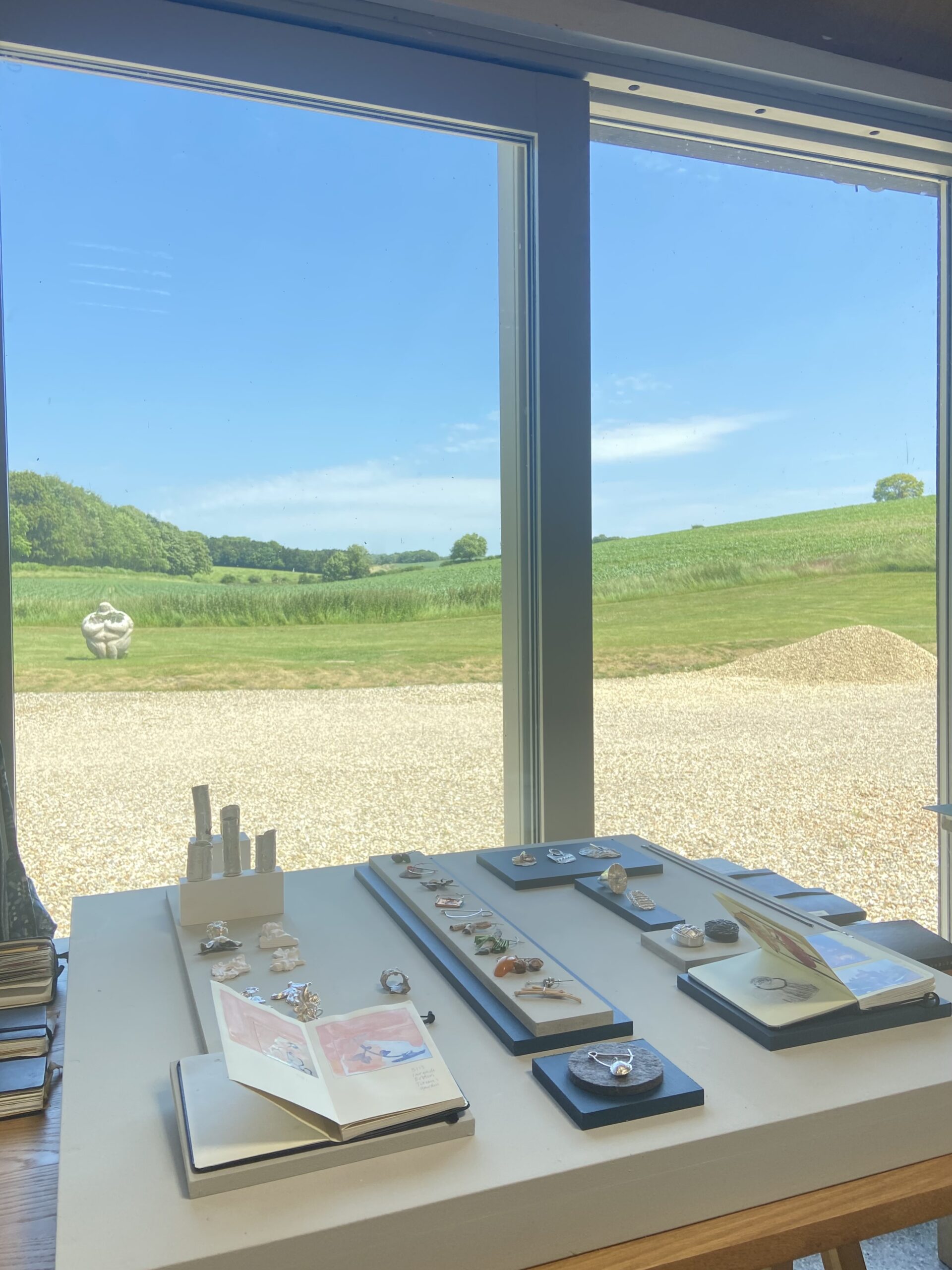 Inside the on site studio of Meryl Setchell Ainslie.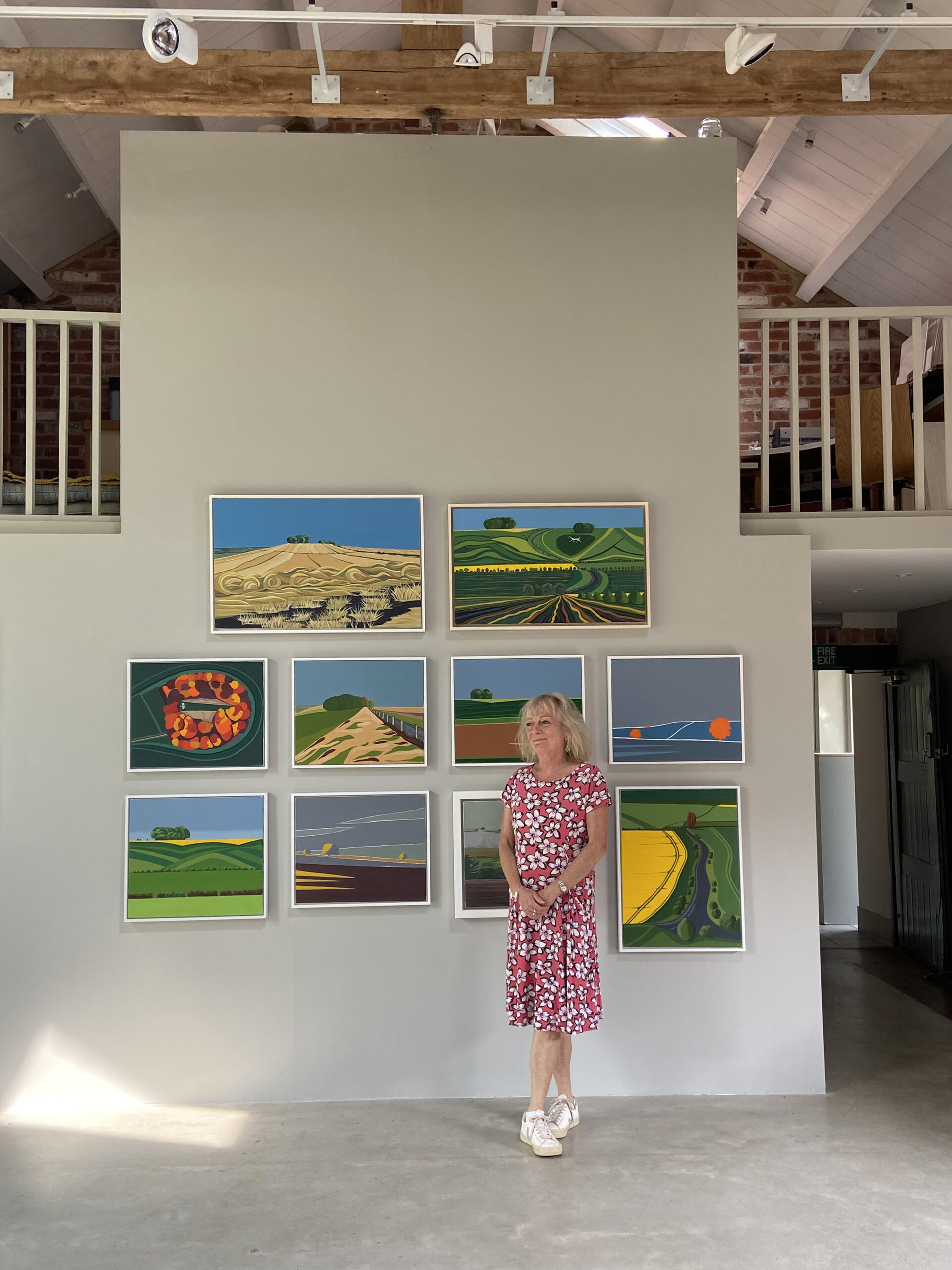 Simone Dawood stands with artworks in Rabley Gallery's East Gallery.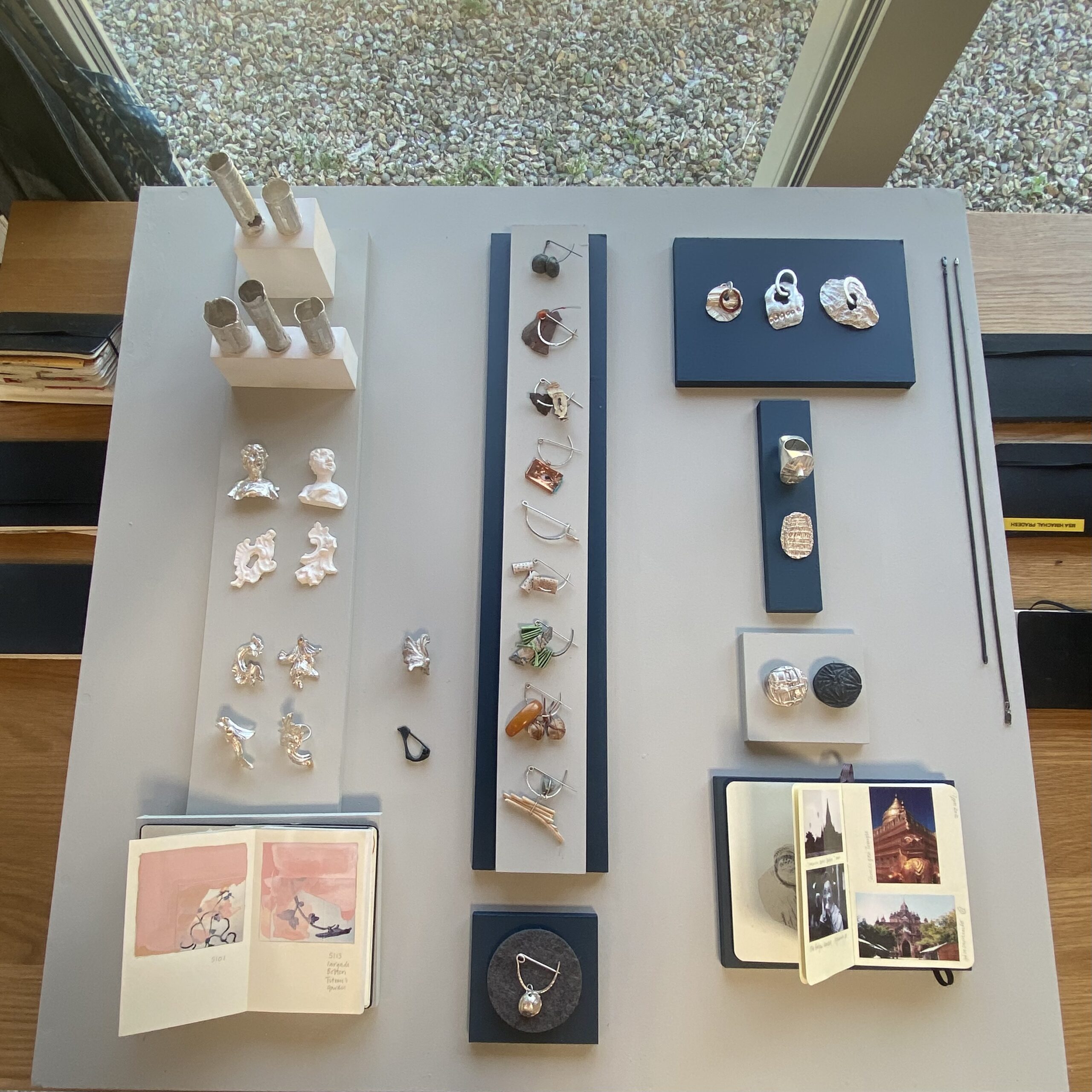 In silver-work sitting between sculpture and adornment, Meryl Setchell Ainslie explores ideas through small endeavours. 'I rise, I rise' is a gathering of flower pieces that become counterbalances to teetering towers of soft formed building blocks. The title of this series is taken from Maya Angelou's poem 'Still I Rise'.
Meryl combines lost wax casting and recycled precious metal with other gathered elements. Her sketchbooks take 2D and 3D forms and in the studio these are developed into brooches and experimental makings.
In the Gallery: "The pieces I have made may at first glance to defy a single 'Style'. They are my statements: expressions of self, my concerns and interests. These adornments and sculptures are tribal amulets for the 21st Century." – MSA.
In the Studio: See the makings and beginnings, sketchbooks and tools.
Special Event: Sand-Casting Demonstration. Spaces in the studio will be limited to 8 on a first come basis. No booking required. Noon on Sunday 2nd & 9th July.
View catalogue of works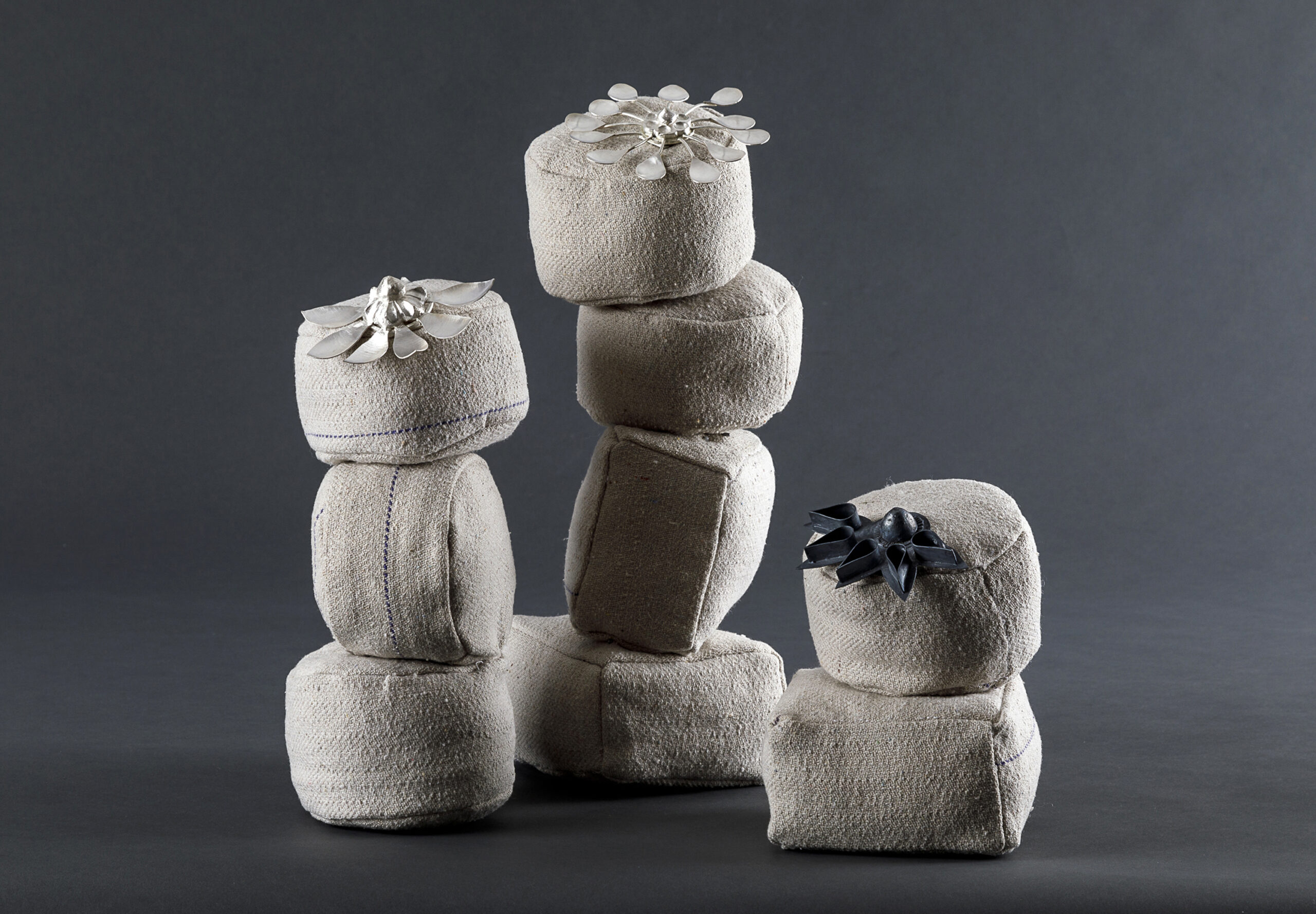 Meryl Setchell Ainslie – I Rise, I Rise I, II, III. 2023, Silver and textile, Variable dimensions.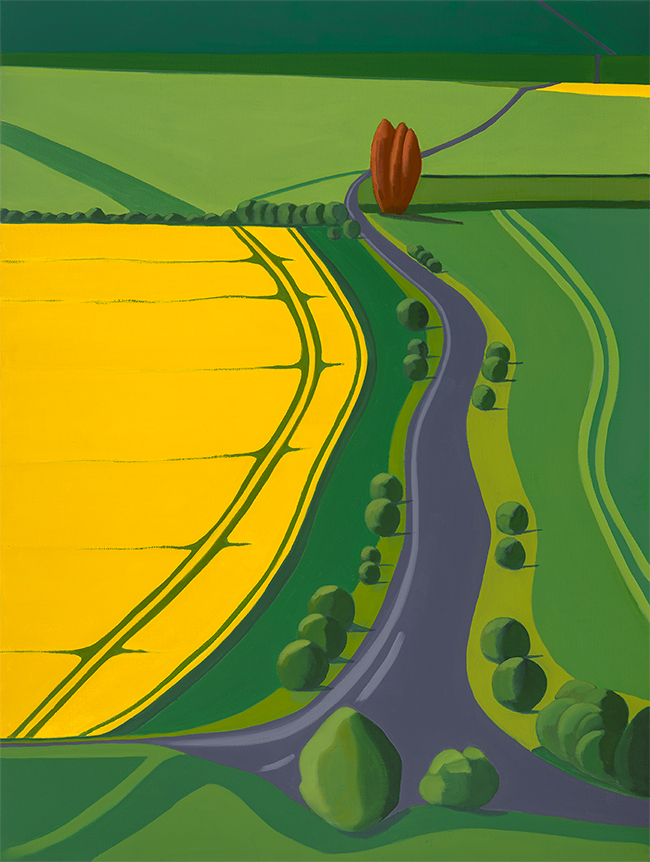 Simone Dawood – Slow. 2023, Oil on linen, 48 x 64 cm.
As the Ridgeway National Trail reaches its 50th year Simone celebrates with new work inspired by this prehistoric road. Travelled by herdsmen, soldiers shamans and seekers she finds the rhythm, patterns, shapes and colour that are so unique to this ancient landscape.
Using multiple layers of oil paint on hand stretched Belgium linen, vibrant colour and intensity pulse across the picture plane. From hillforts and white horses to overgrown woodland paths or a solitary tree on the horizon.
In the Gallery: As well as paintings Simone will be showing mixed media work linked to collections in the Archaeology Department of the (now closed) Swindon Museum and Art Gallery. Also Limited Edition Giclée Prints and Greetings Cards.
In the Studio: Simone will gladly talk you through how she makes her paintings and will have some rough sketches and sketchbooks to illustrate the process.
View catalogue of works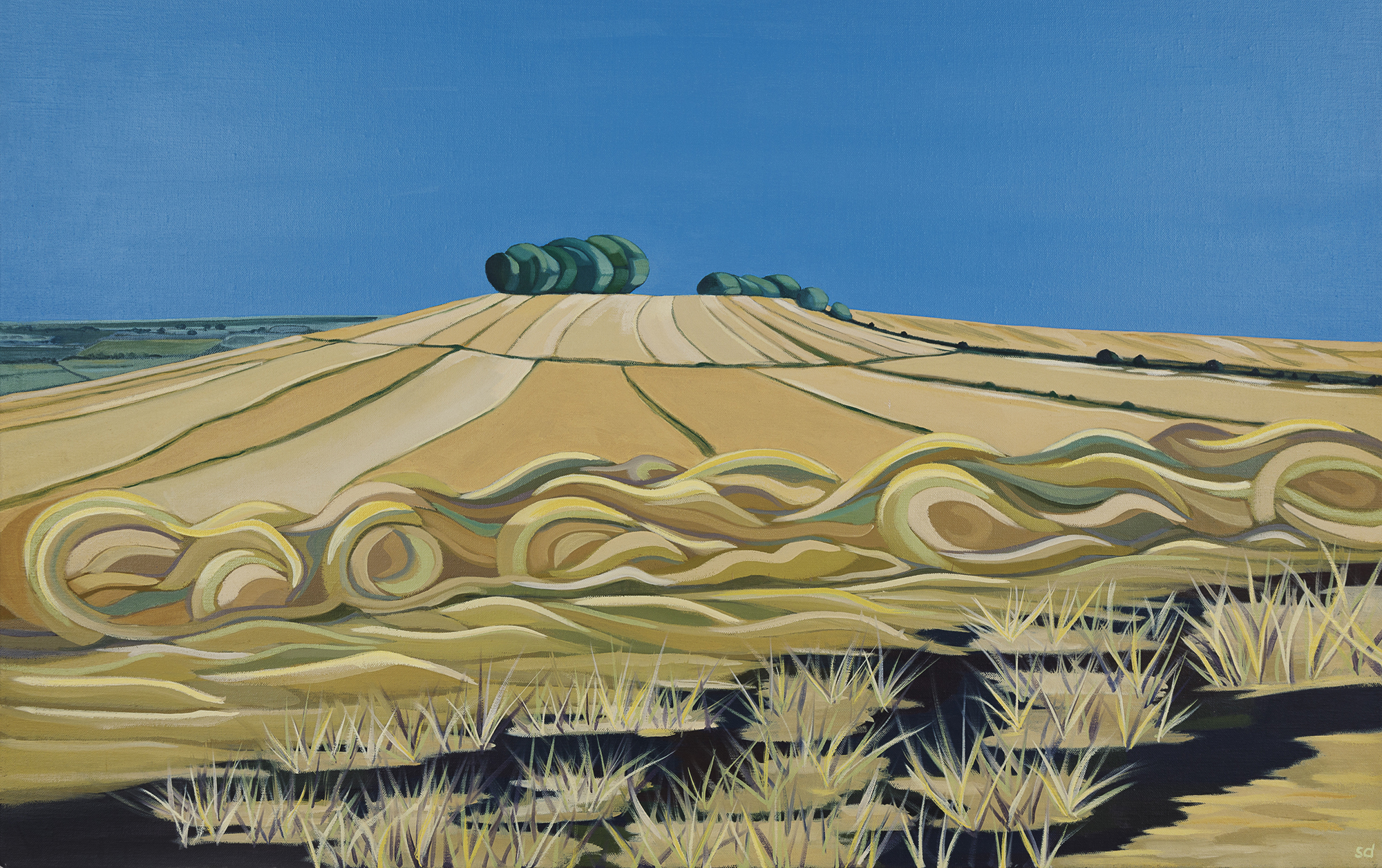 Simone Dawood – Hackpen Harvest #3. 2023, Oil on linen, 85 x 55 cm.
View more information via the Marlborough Open Studios website
RABLEY GALLERY
Rabley Drawing Centre
Marlborough, Wiltshire, SN8 2LW
T +44 (0)1672 511999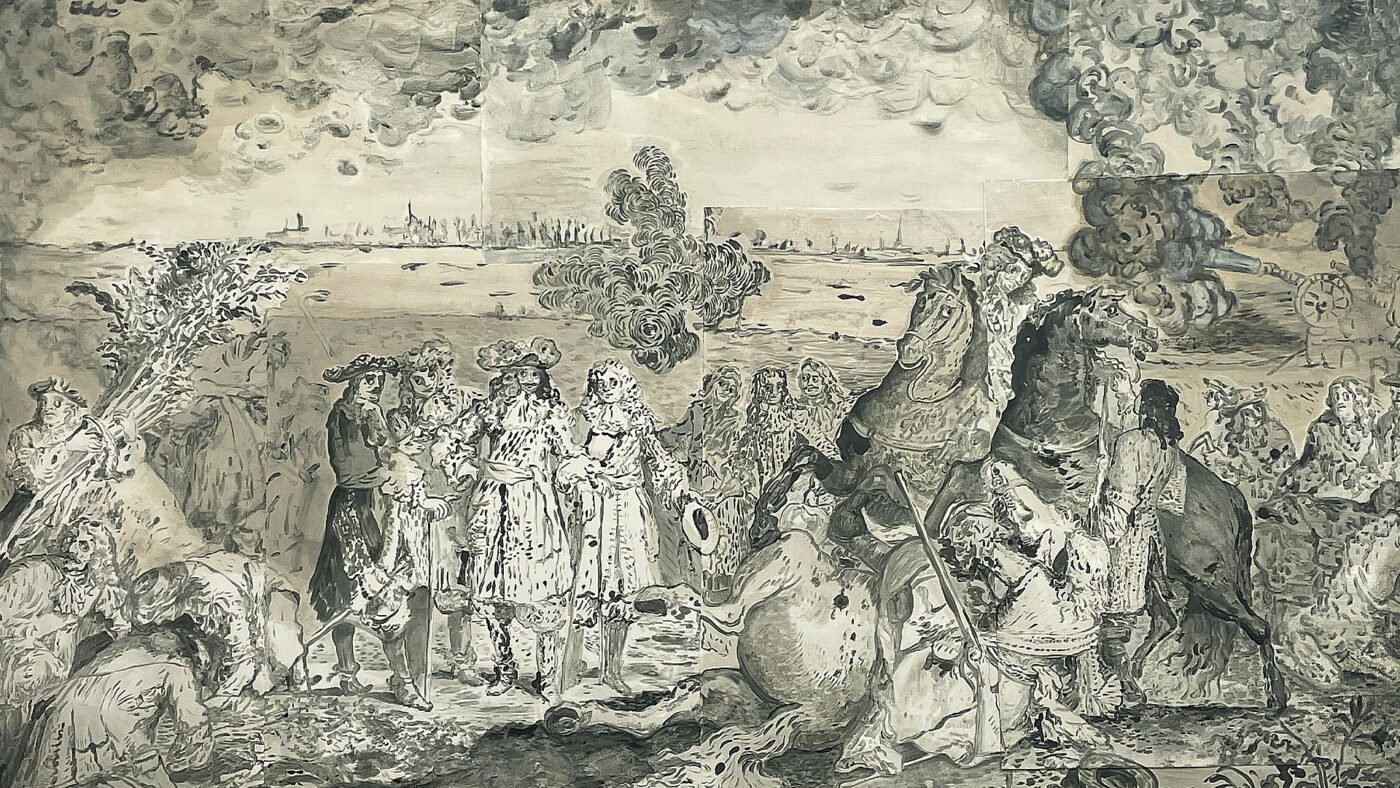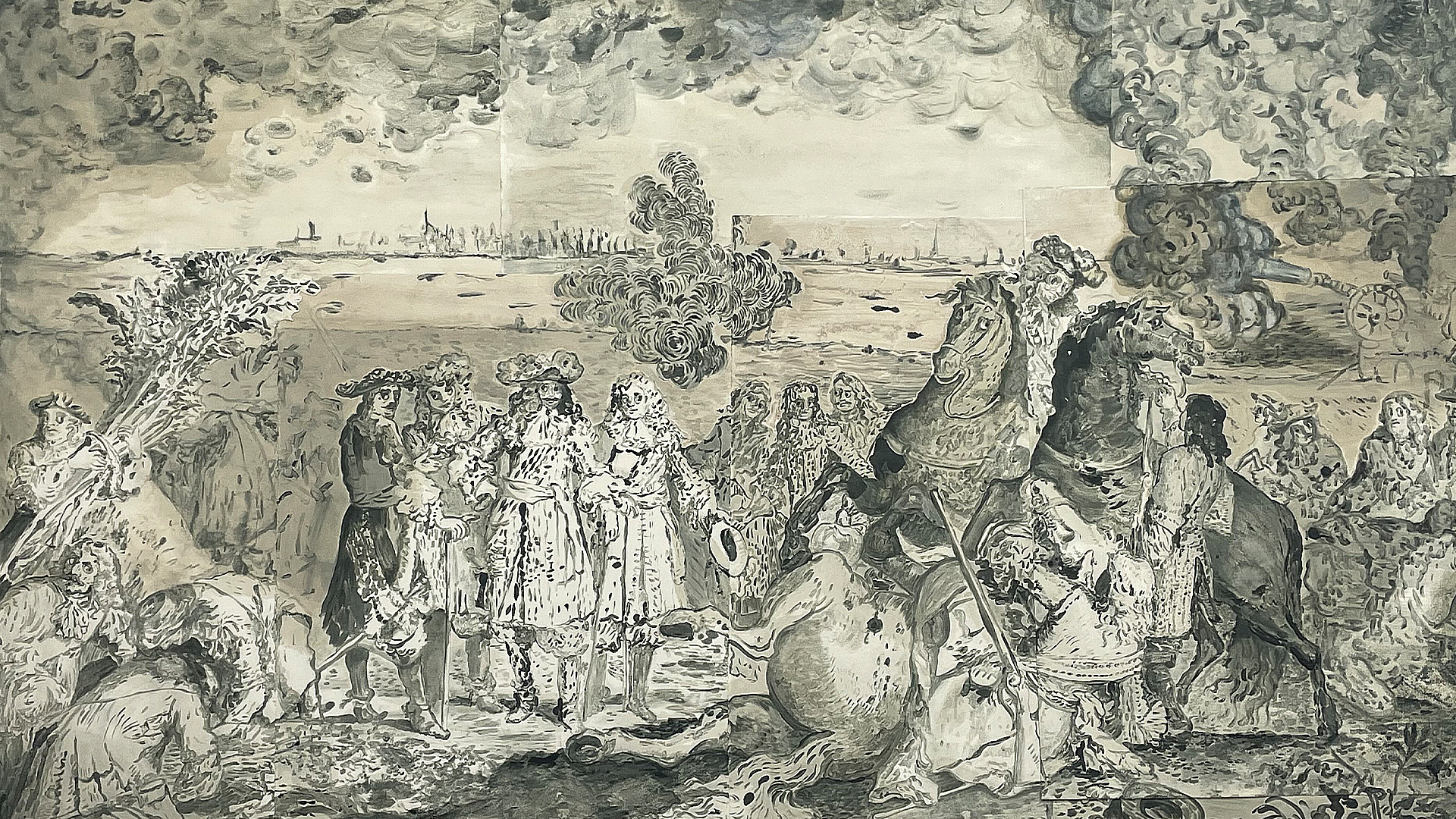 Natasha Michaels is the winner of the Ushaw Residency and Acquisition Prize 2022, awarded last year at the Woolwich Contemporary Print Fair 2022.[More Info]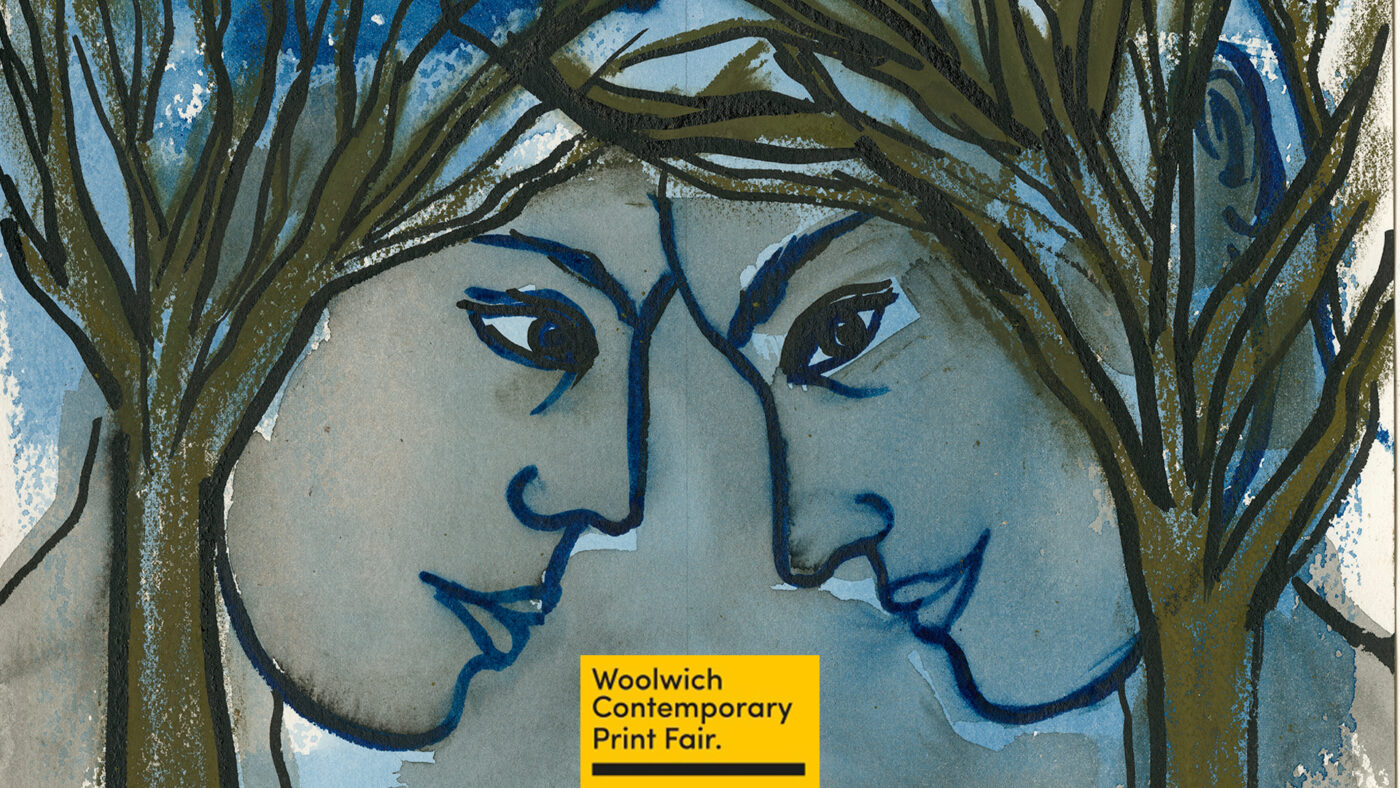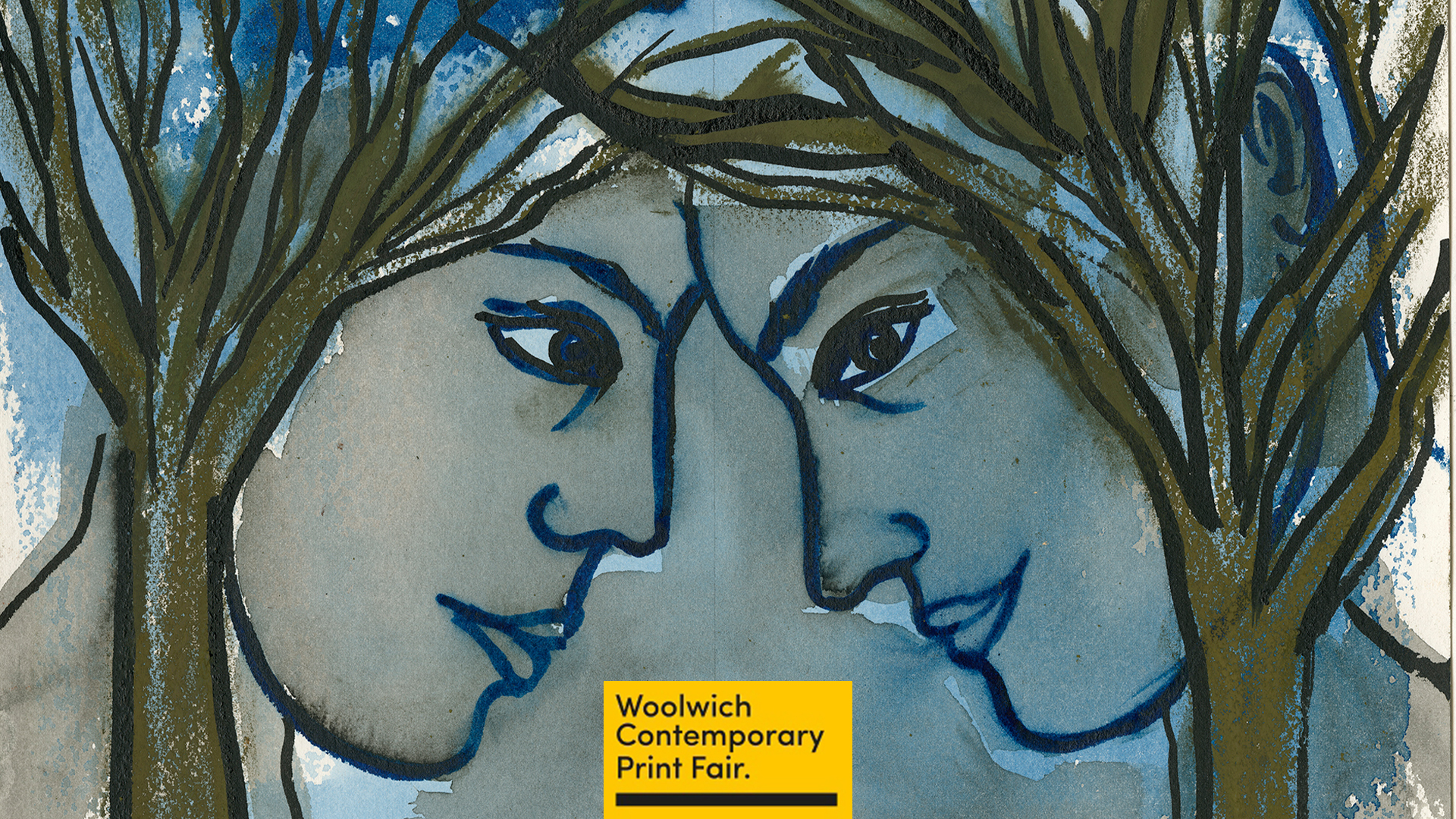 Body and Soul: A new series by Eileen Cooper RA, launching with Rabley Gallery at the Woolwich Contemporary Print Fair 2023[More Info]