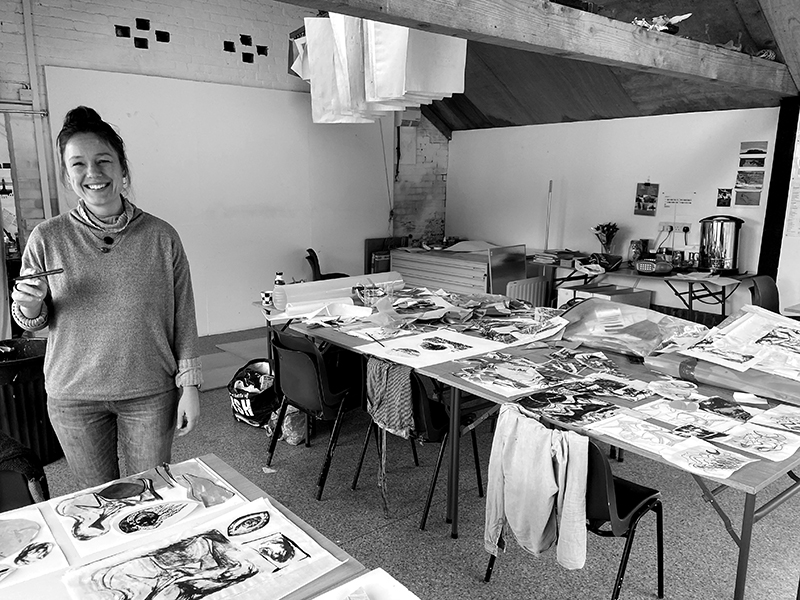 RABLEY DRAWING CENTRE
NEW Artist in Residence 2020
Meryl Ainslie, Director of Rabley Drawing Centre in conversation with Lucy Farley, their new artist in residence 2020. Lucy will be working at Rabley Drawing Centre  during four visits throughout the year.
Lucy Farley is a painter and printmaker, researching the places she visits and the stories that underpin a places inspires her work. She has a Danish mother and English father. She recalls the dark and spooky Nordic tales her Grandmother told her as a child. And here her story starts…
"I didn't know about the Savernake Forest before I came here.
There was a random connection from an Australian friend who told me about the stories and legends of the Forest. So I started to draw from these ideas about the 'headless horse woman' of the forest. I made lithographs at London Print Studio, printed onto Japanese paper and  working with a horse shape. These are some of the collaged elements I have been using in the print studio at Rabley. 
There is an eye in the oak in the forest called the king of limbs' – this motif has also inhabited the images this week. Back in my London studio I will be editing and making  more research and reading and readying for my next exciting visit.
Being in the Rabley studio there is a connection to landscape. I can see the edge of the Savernake Forest out of the window. It's a stark contrast to my London Studio and a breathing space, calming and vast. It is so quiet – I can mull the questions without interruption." LF Feb 2020
Recent series have included a collection of images based on a castle in Holland Park, London. Lucy trained at the Royal College of Art 2007-2009. She has lived in Germany and the UK.
Lucy making the most of the space and studios at Rabley – she will also being inspiring others along the way…..
She will be returning throughout the year  – follow our blog or instagram @rableydrawingcentre
Works in progress include a series of collages
See the video clip below