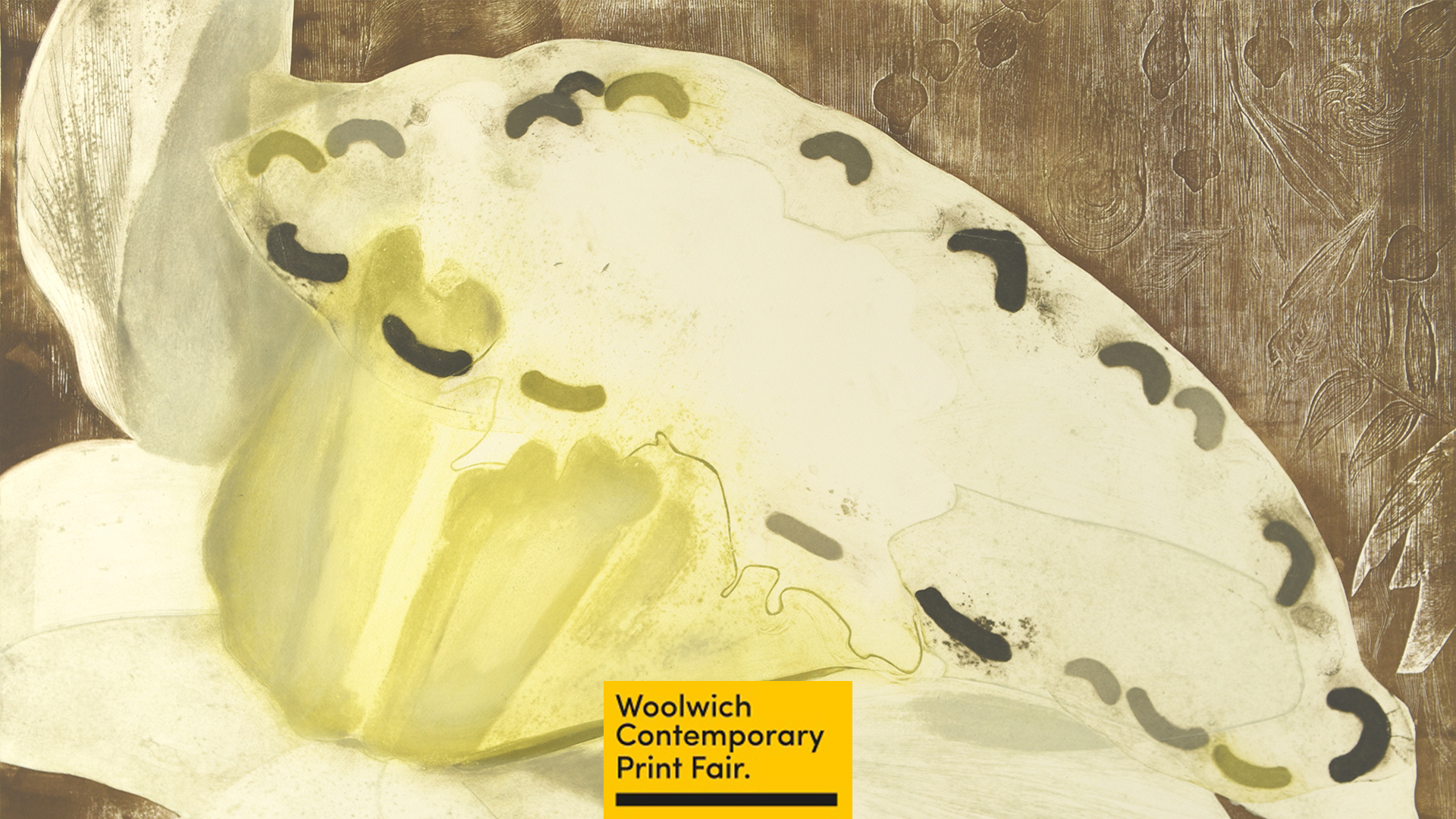 A special solo presentation of prints and painting by Katherine Jones launching at the Woolwich Contemporary Print Fair.
Katherine Jones RA – The Real Sunshine of Feeling
SOLO – Booth 28
Woolwich Contemporary Print Fair
Royal Arsenal, London SE18 6HD
26 – 29 October 23
'The Real Sunshine of Feeling' is a new series prints and paintings that celebrates the multifaceted nature of the Chelsea Physic Garden in London, and likewise the images that have emerged are underpinned by the many free associations and ideas inspired by it.
Katherine Jones two new larger than life collagraphs 'Narcissus'' and 'Narcissus Echo' focus on a narcissus flower or something resembling the trumpet and petals of the daffodil. Basking in the luminous glow of their own reflections they play with the narrative of the Greek God Narcissus, and the Goddess Echo who was infatuated with him.
Katherine Jones is a painter and printmaker, neither discipline taking precedence over the creative process, three intimate scale paintings in oil on panel seduce with her sensibility for colour and form.
Eight smaller prints take us from flower and seed to falling leaves with titles that are poetic as the images: The Real Sunshine of Feeling; Dark Petal; Drooping Blue Sea Foam; Grass is A Silk Smooth Blade; Rainbow Seed; Seeping the light out; Sleepy Eyes; Sycamore.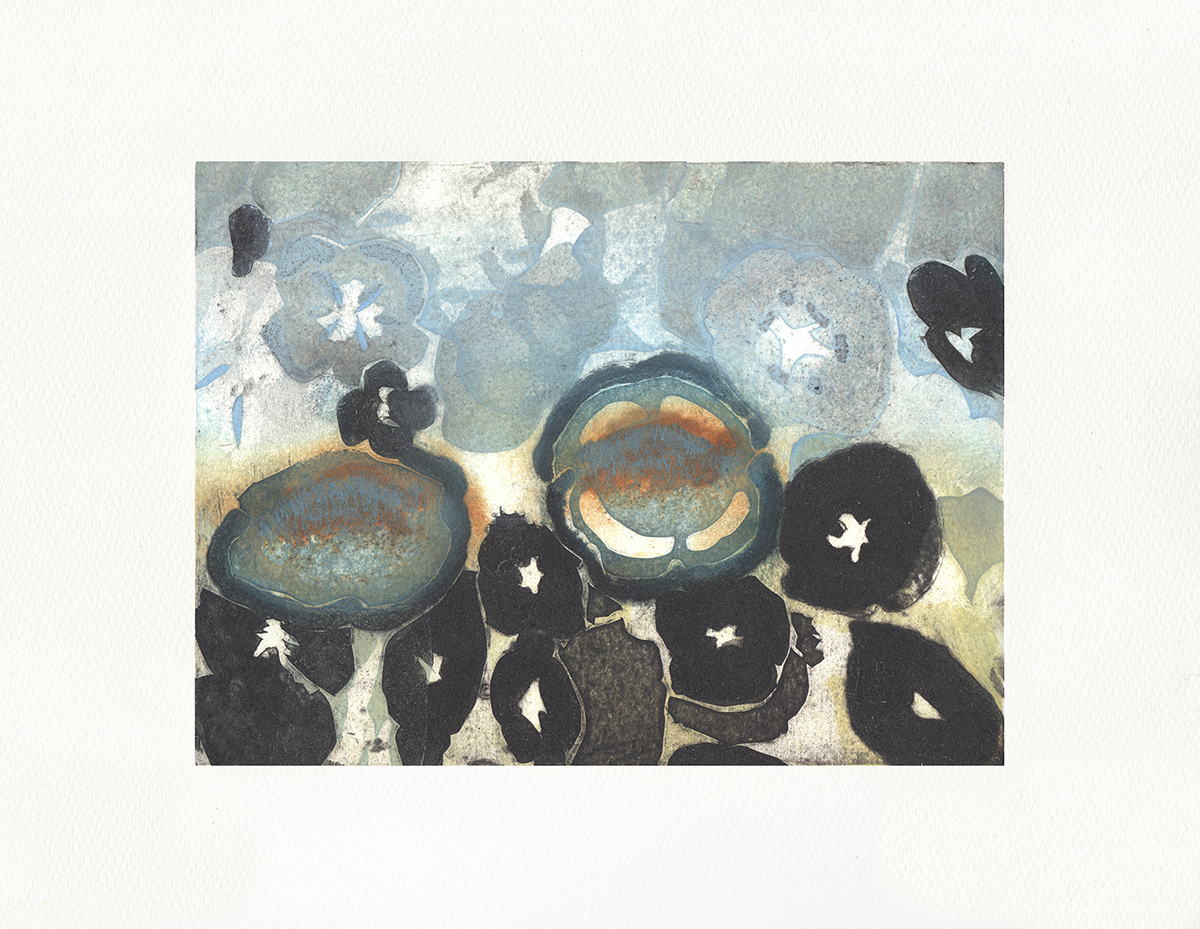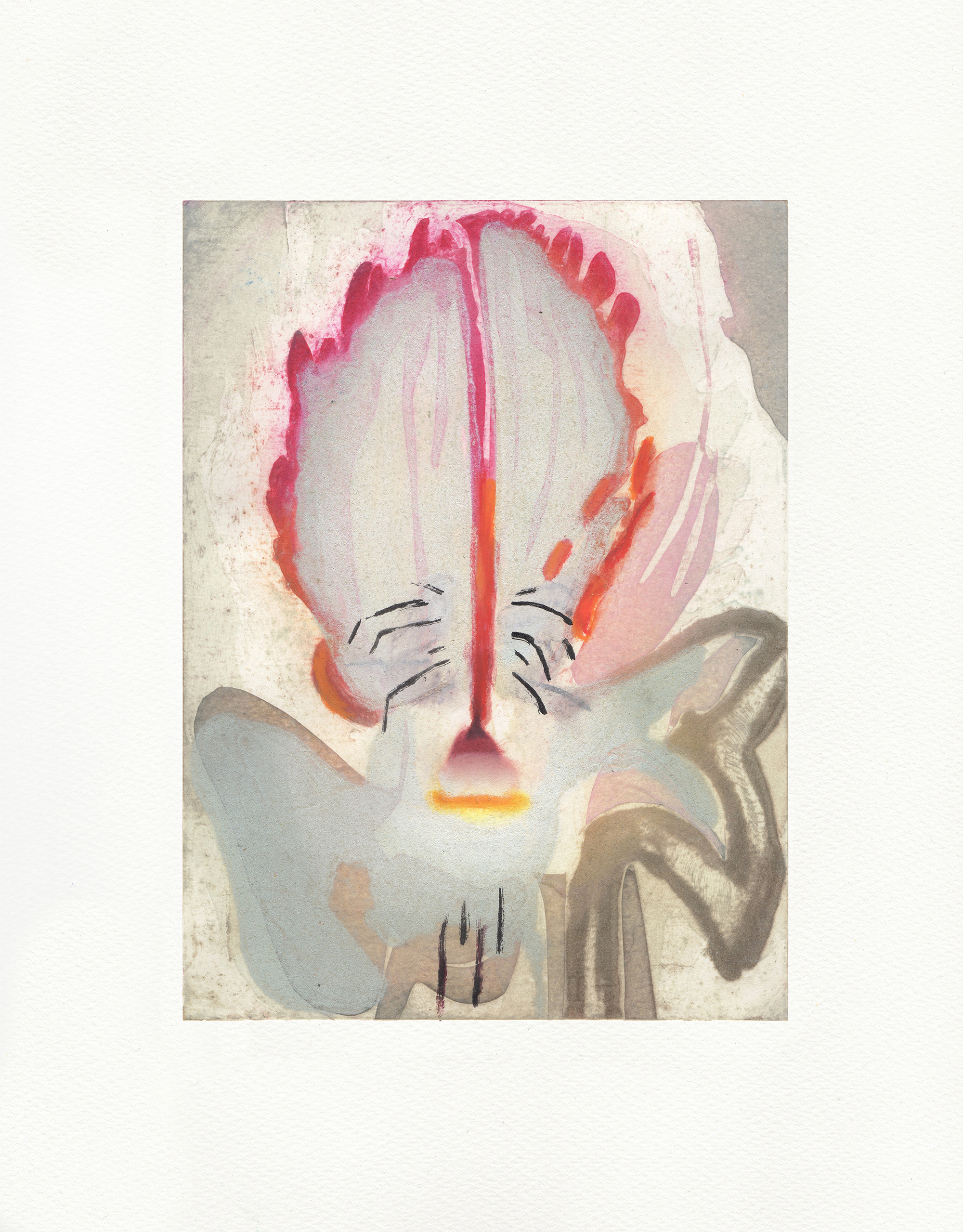 For the past year Jones has visited the Chelsea Physic Garden to regularly to draw alongside a group of artists from the Royal Society of Painter Printmakers. Until the 1970's these gardens were a living classroom to train apothecaries in the use of plants and their medicinal uses. Today the garden also hosts weddings and parties, and Jones has documented the changing marquee shapes and structures as they are put up and taken down alongside the plants.
View Katherine Jones RA - Collagraphs
The Real Sunshine of Feeling – A quote from Charlotte Bronte's Jane Eyre
He seemed to think it too good for common purposes: it was the real sunshine of feeling—he shed it over me now. "Pass, Janet," said he, making room for me to cross the stile: "go up home, and stay your weary little wandering feet at a friend's threshold." "Thank you, Mr. Rochester, for your great kindness.
RABLEY GALLERY
Rabley Drawing Centre
Marlborough, Wiltshire, SN8 2LW
T +44 (0)1672 511999
Rabley Gallery specialises in drawings, works on paper and contemporary printmaking. Founded in 2004. Members of the International Fine Print Dealers Association.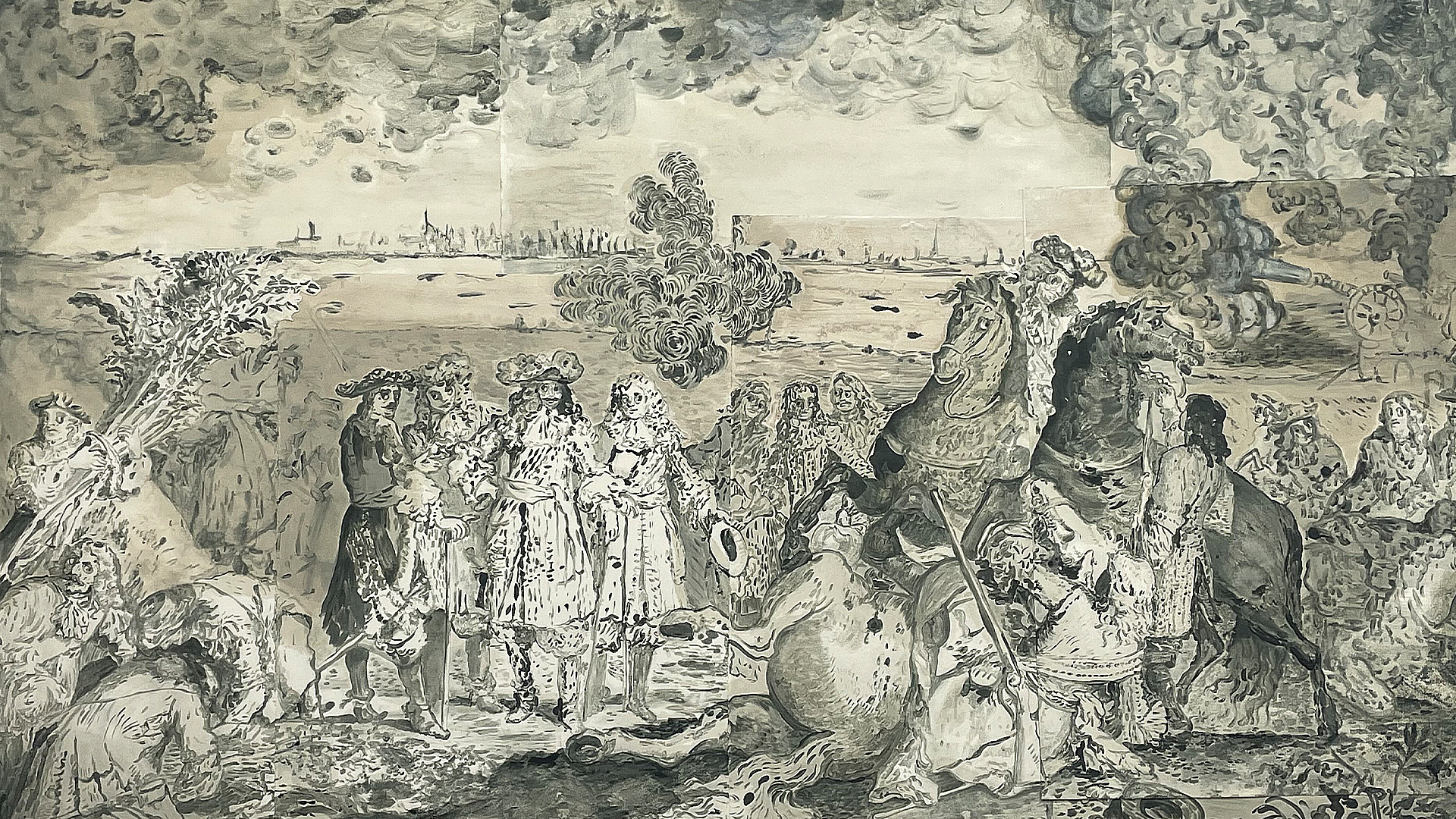 Natasha Michaels is the winner of the Ushaw Residency and Acquisition Prize 2022, awarded last year at the Woolwich Contemporary Print Fair 2022.[More Info]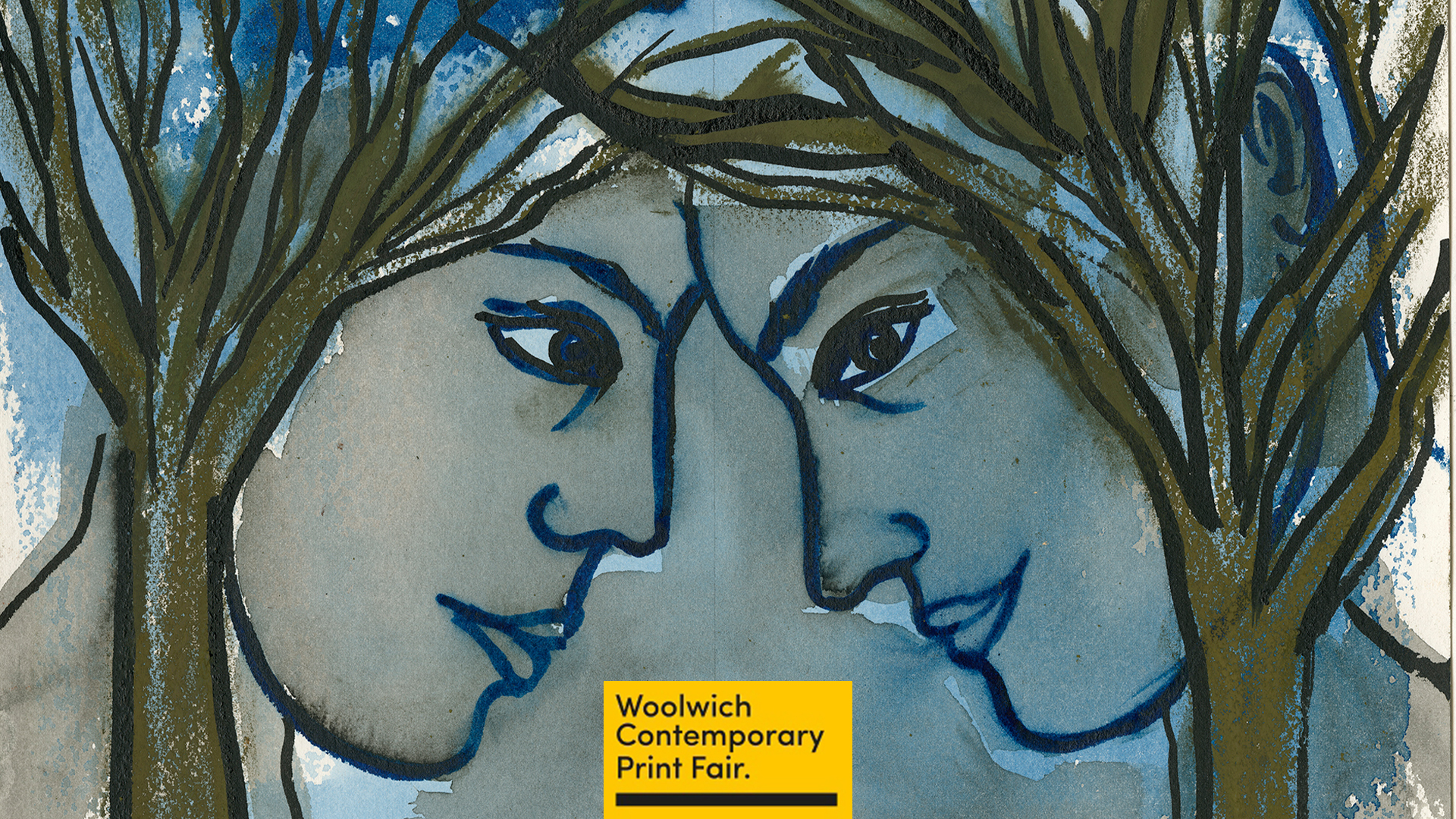 Body and Soul: A new series by Eileen Cooper RA, launching with Rabley Gallery at the Woolwich Contemporary Print Fair 2023[More Info]