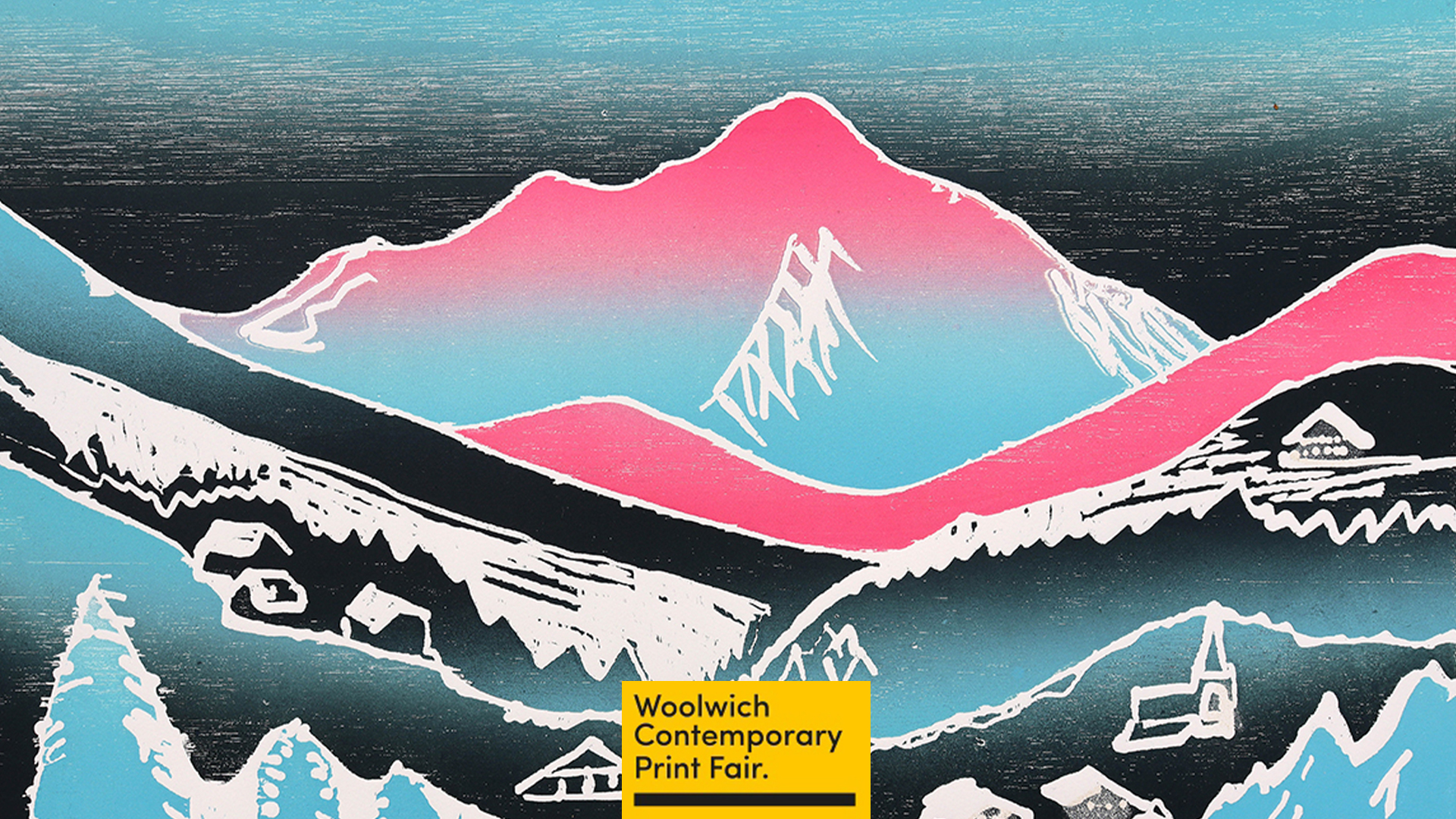 Sadie Tierney – Flimzooz Dusk, 2023. Woodcut, Printed to the edge on Somerset Satin, 38 x 56cm, Edition 20.
Still, Wild, Body and Soul 
Booth 27
26 – 29 October 2023
Woolwich Contemporary Print Fair
Woolwich Works, 11 No 1 St, Royal Arsenal, London SE18 6HD
'Still, Wild, Body and Soul' is the title of our curated booth this year, at the Woolwich Contemporary Print Fair. It playfully nods at the legacy of the traditional art genre's within contemporary printmaking. The artists work within a broad range techniques and transpire their unique touches through the worldwide language of print, from East to West: mokuhanga and mezzotint to monotype.
As a process printmaking gives its own pause for thought. The time rich layers of platemaking, inking, proofing and printing create a natural reflective distance between the idea the realisation of the image. Within each print the human touch is revealed as small changes. The nuances of surface and paper gives particular visual pleasures.
Highlights of new print publications being launched at the WCPF include:
Special new publication for the Woolwich Contemporary Print Fair – two new woodcuts by Eileen Cooper RA.
These two new woodcuts are being launched exclusively by Rabley Gallery and the WCPF and will come with a copy of the hardback book from the Royal Academy of Arts Eileen Cooper, Body and Soul Sketchbook.
We will also be exhibiting a series of the original mixed works on paper from the book 'Body and Soul'.
Book Signing and Meet the Artist:
Eileen Cooper RA
4-5pm
Wednesday 25th October 
Please Email to Attend: [email protected]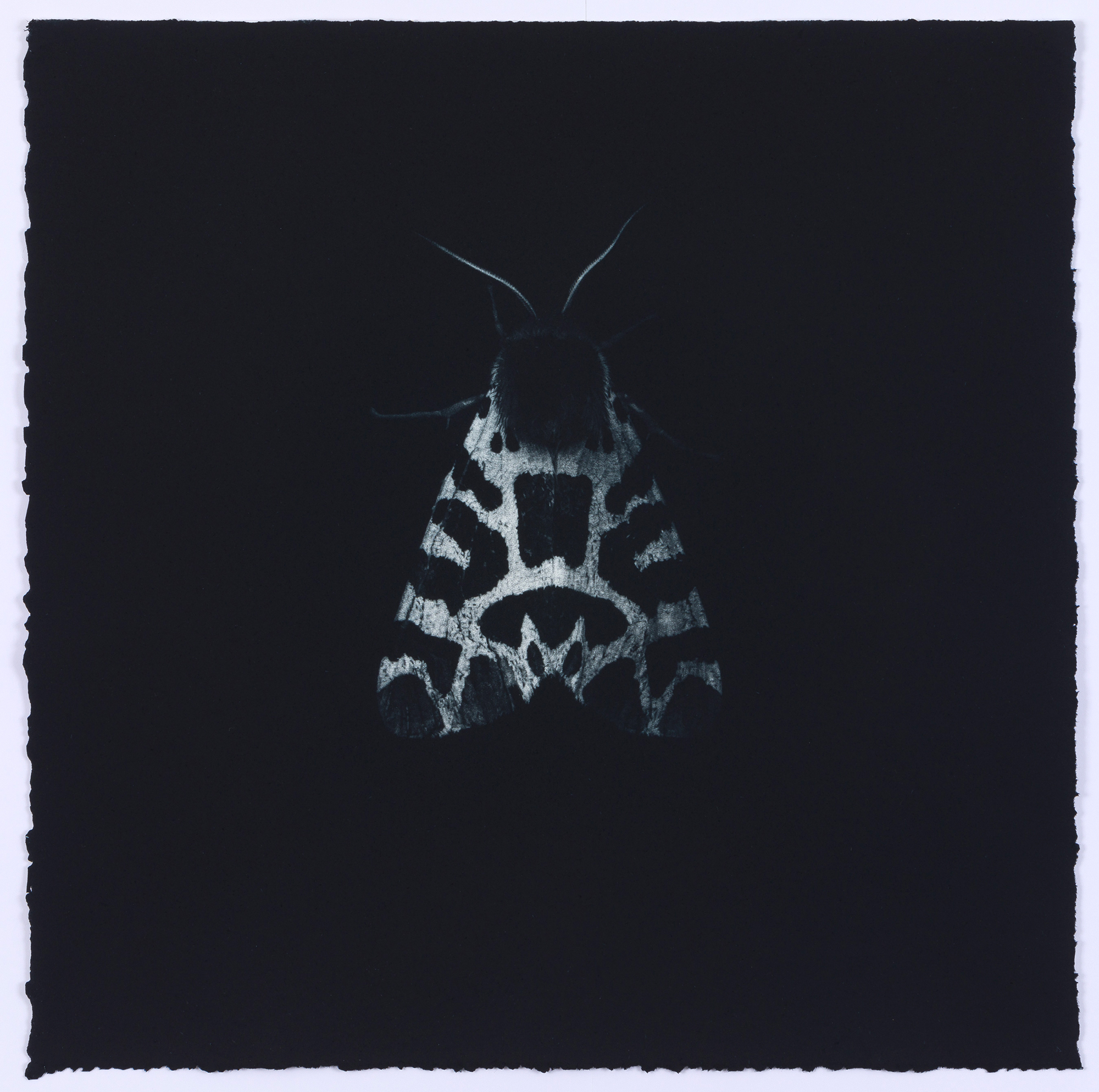 Sarah Gillespie – Wounded Tiger, 2023
Mezzotint, Paper size 51 x 51cm, Printed to the edge on Arches Moulin du Gue paper
£1100.00
New Publication Launching at the Woolwich Contemporary Print Fair 2023
'Wounded Tiger' is the newest Moth to be transformed by Sarah Gillespie's eye and skill with the old and difficult mezzotint printmaking technique. It continues a series of over 30 moths prints to date.
Gillespie was drawn to moths because they're "overlooked and under-loved". Then she found out they are in catastrophic decline: 50-60 species have become extinct in the past 80 years.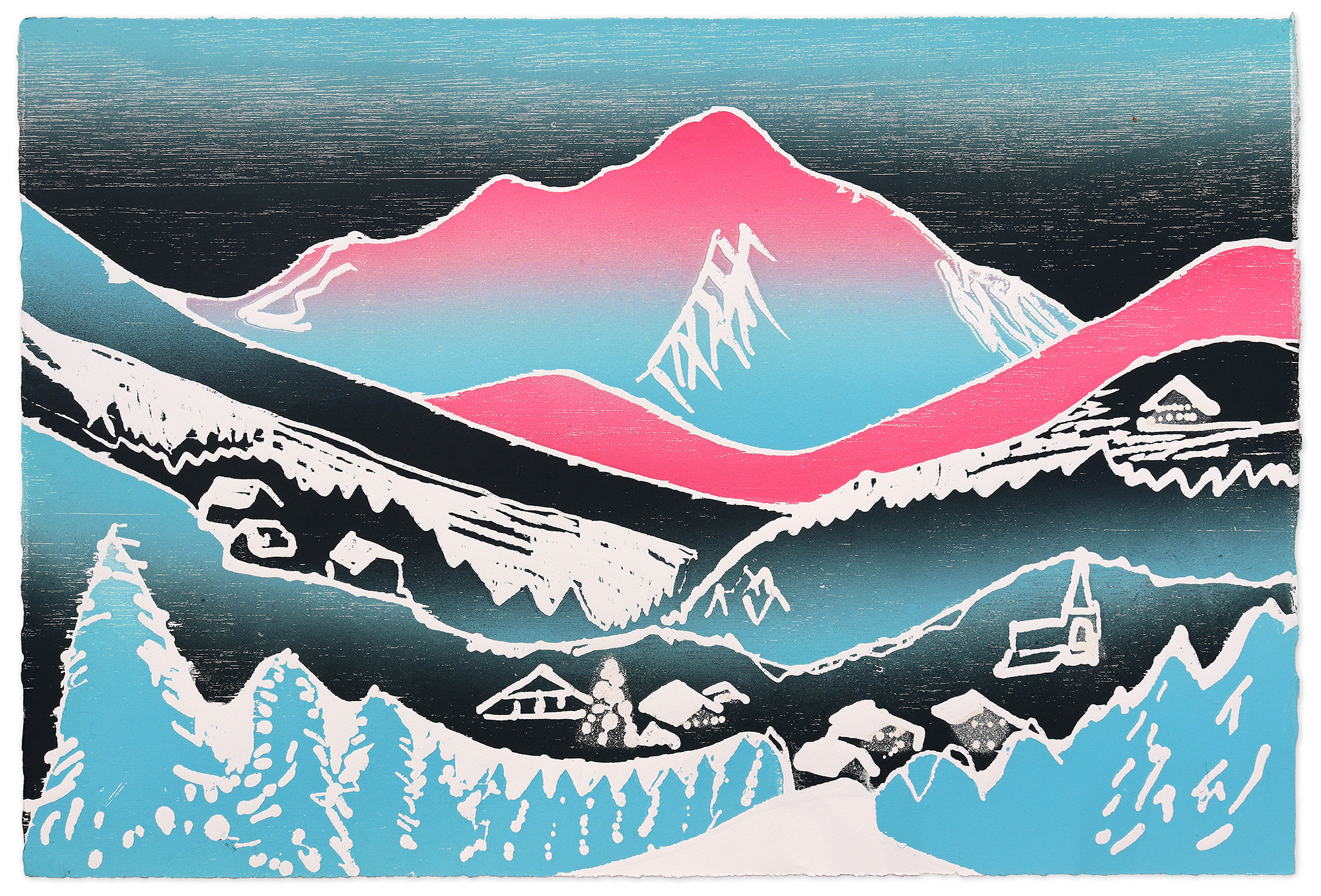 Sadie Tierney – Flimzooz Dusk, 2023
Woodcut, Printed to the edge on Somerset Satin, 38 x 56cm, Edition 20
£550.00
A new series is inspired by mountains, contemplation, memories of places and experiences. In "Flimzooz Dusk" the setting sun picks out the high peak while lights appear in the dwellings below. "Lift to the High Places" shows a fragile line of chair lifts below craggy mountain tops, linked by subtle gradations of ink.
Tierney is Norwegian at heart, a Boodle Hatfield prize winner (2020) and regular exhibitor at Woolwich Contemporary Print Fair. She trained at the RCA.
This series of prints take inspiration from Japanese screens, known as shoji. Traditional lattice designs are at the root of the imagery. Akin to a shoji the prints depict a translucent barrier between internal and external worlds, and of interest to Blackhall is the intangible space in-between. In a soft shift from one space to another, eucalyptus leaves and their shadows are suspended in time, echoes of past and present.
They are printed on kozo paper made from mulberry fibers, similar to the material used in the fabrication of shoji themselves, a delicate, yet strong paper that diffuses light.
View Complete Catalogue for WCPF
RABLEY GALLERY
Rabley Drawing Centre
Marlborough, Wiltshire, SN8 2LW
T +44 (0)1672 511999
Rabley Gallery specialises in drawings, works on paper and contemporary printmaking. Founded in 2004. Members of the International Fine Print Dealers Association.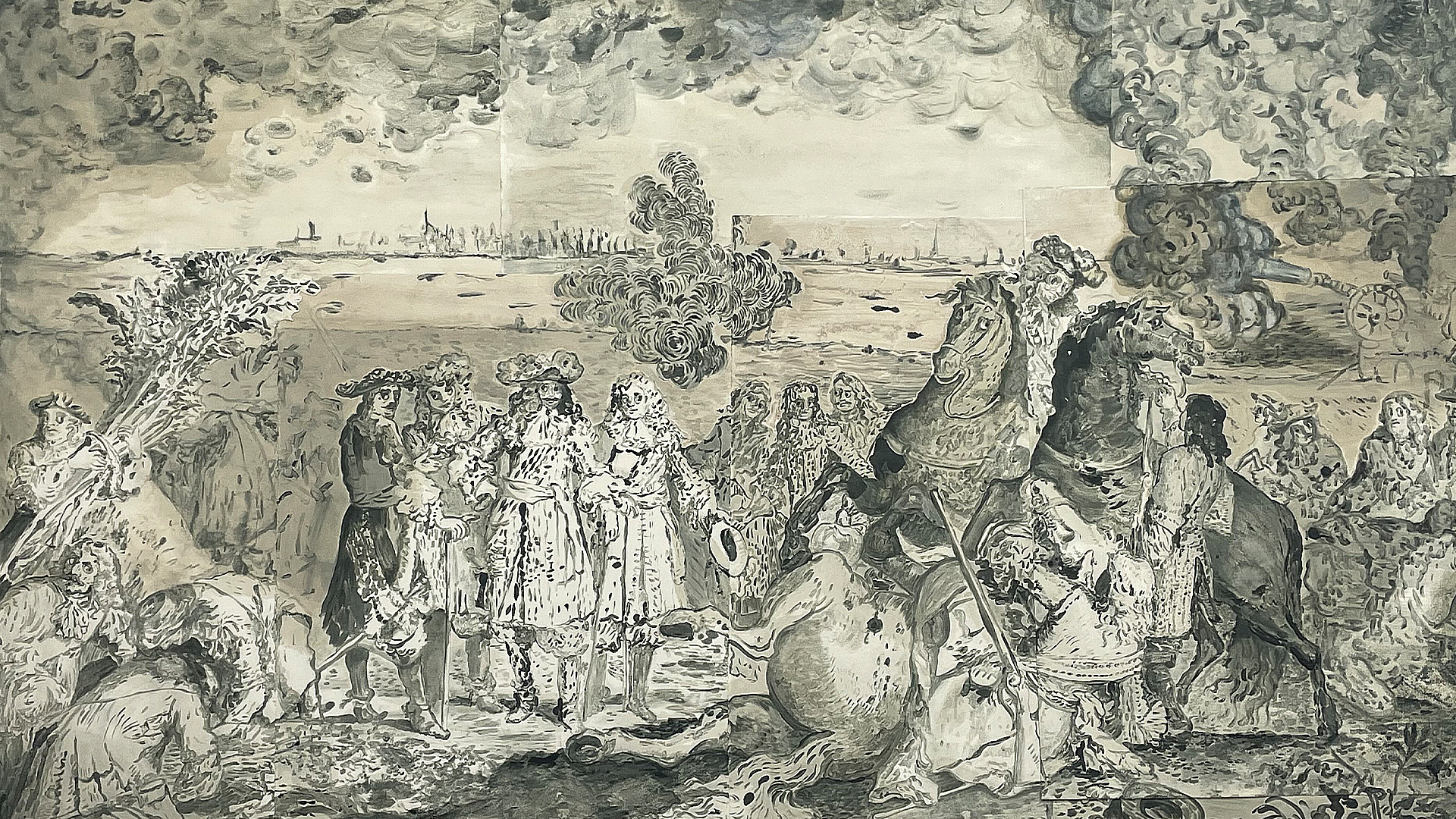 Natasha Michaels is the winner of the Ushaw Residency and Acquisition Prize 2022, awarded last year at the Woolwich Contemporary Print Fair 2022.[More Info]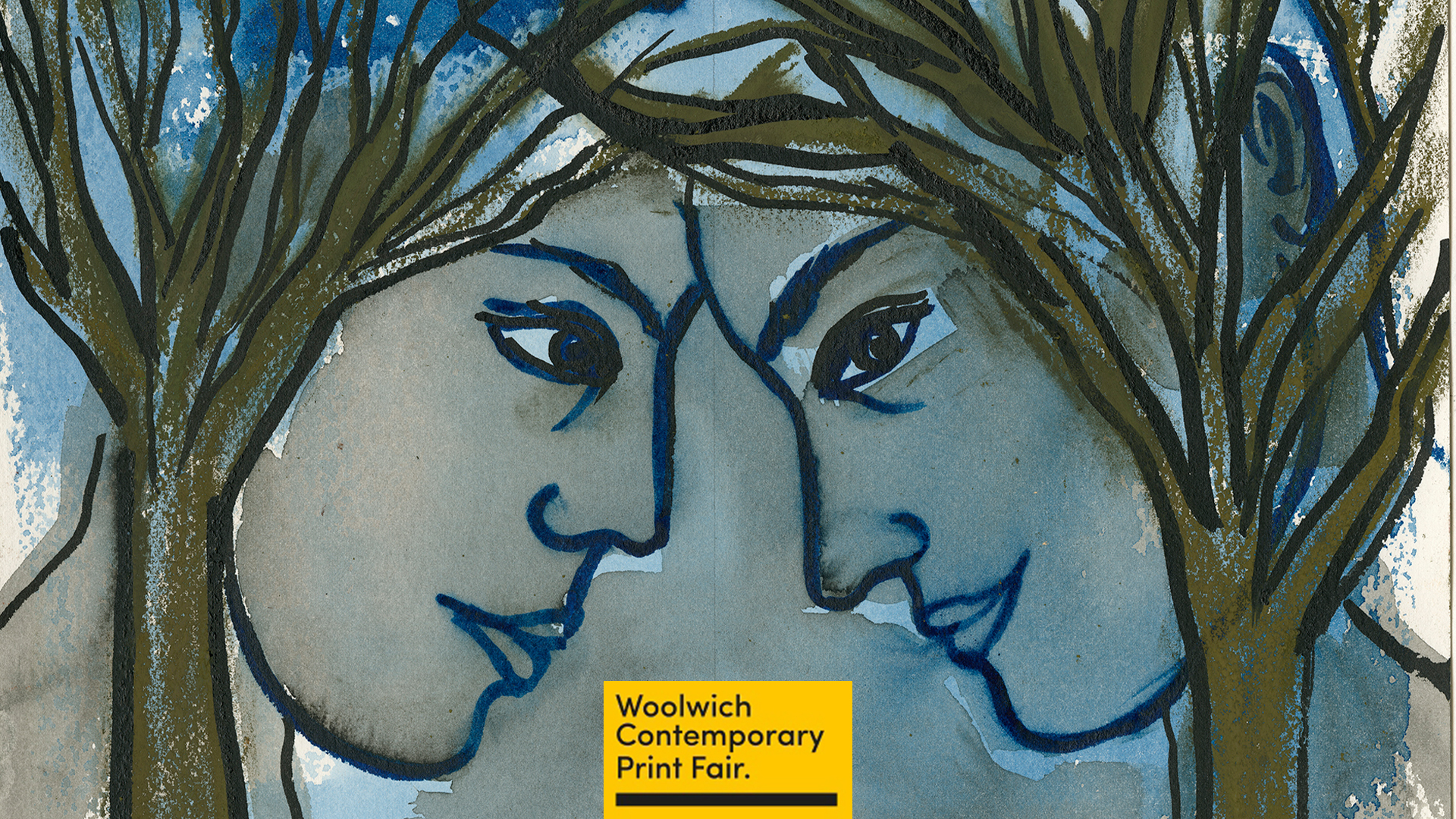 Body and Soul: A new series by Eileen Cooper RA, launching with Rabley Gallery at the Woolwich Contemporary Print Fair 2023[More Info]