Simple Japanese Woodblock Monoprint – Sara Lee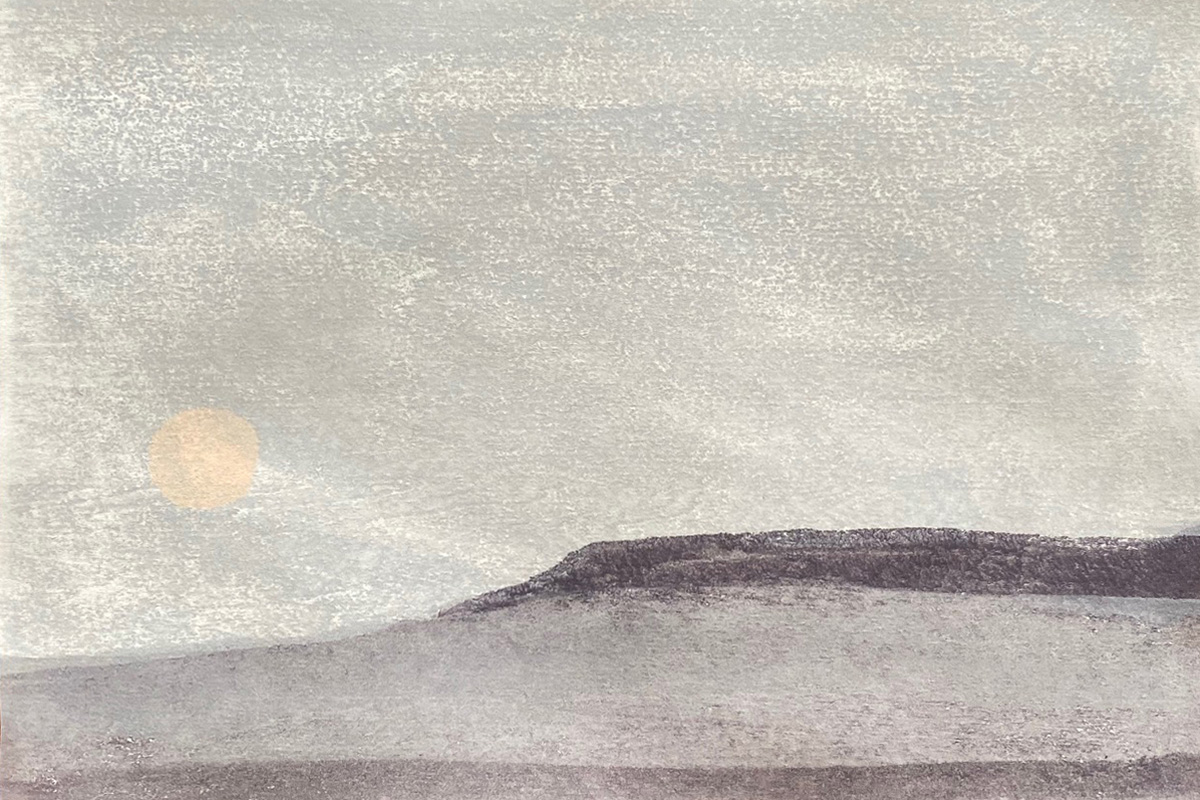 Introducton
This handprinted monoprint method borrows techniques from the Japanese tradition to apply water-based inks to a woodblock and make unique prints.
Materials
woodblock (shina ply)
Japanese paper – eg Hosho / Masa / Shiramina
water based paint – gouache / watercolour
Japanese baren (and/or cloth and/or wooden spoon)
sheet of baking parchment or greaseproof paper
brushes to mix and apply 'ink'
small jam jars or similar, to mix and store 'ink'
newsprint
plastic to wrap damp paper in
cloth for damping paper and block & water container
pencil / ruler etc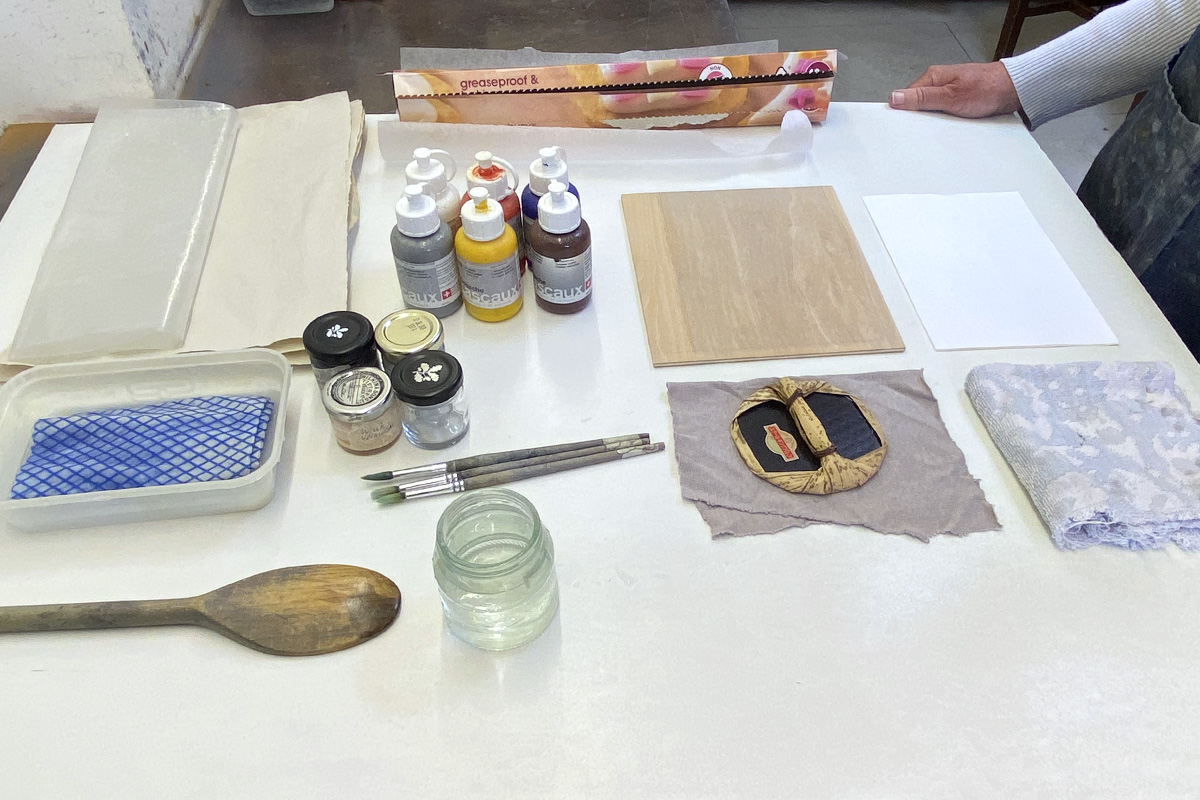 Method
Preparing the paper
Before you start, decide on an image size that is smaller than your woodblock and cut down your printing paper to that size.
Damp some sheets of newsprint that are larger than your chosen sheet size and wrap in a plastic sheet. Leave overnight or for at least for an hour until the water has been absorbed into the paper
Smooth out the wrinkles from each sheet of newsprint
Interleave your printing paper between the damp sheets of newsprint
Leave wrapped in the plastic until the printing paper is evenly damp (at least an hour)
Preparing the woodblock, preparing an image and mixing the ink
Mark a 1cm border on the top and side of the woodblock for registration
Mark the other sides of your paper size onto the woodblock
Mix the first colour from gouache or watercolour and water into a small container (once mixed the 'ink' lasts for ages – if it dries out, water can be added to make it useable again)
you can mix all the colours you want to use now or wait and mix as you need them – just make sure that your paper is back in the newsprint stack and wrapped up, so it doesn't dry out while you are mixing)
Painting the image on the block, registration and printing
Damp both sides of your woodblock with water (it needs to have absorbed the water before you start but not to have dried out – this takes some practice!)
paint the first colour onto the damp woodblock – work quite quickly so it doesn't dry out
take a sheet of paper out of the newsprint stack and place – smooth side down – onto the block – use the pencil registration marks to place the paper correctly.
put a piece of greaseproof paper on top of the paper and print using a Japanese baren if you have one. (It is also possible to print with a piece of cloth, a wooden spoon or just you hand and good to experiment with how these different things give different printed marks
Once printed put the paper back in the newsprint stack and begin on the next colour.
Overprinting with multiple colours
Repeat the process of damping the block, painting on and printing again until you are happy with the image…
Tips
The success of this technique relies on both the woodblock and the paper being damp – too wet and the inks will run, too dry and the paper will stick, and the ink won't transfer.
If your paper stack begins to dry out, use a water spray or a cloth to damp the top sheet and wrap up the again to allow the damp to penetrate through.
---
Suppliers
Woodblock, Japanese paper, baren, newsprint.
Intaglio Printmaker https://intaglioprintmaker.com
Any gouache or watercolour is suitable. I use Lascaux gouache from AP Fitzpatrick
https://shop.apfitzpatrick.co.uk/
Download the worksheet
Table top Print Projects have been written by the Rabley Drawing Centre tutors for Rabley printmakers. They are free for anyone to use and we have included useful supplier links. All images and texts are copyright of Rabley Drawing Centre CIC and the authors. We plan to launch have new project each Monday for the coming weeks.