LONDON ART FAIR 21
18 – 31 January 2021 Online
Rabley Gallery are proud to be taking part in the 33rd London Art Fair 2021.
Our innovative presentation of 20 new works by 9 Rabley artists includes audio pieces of the artists talking about their work alongside the images. The works we have selected are deliberately fresh and up lifting!
Eileen Cooper RA
Eileen has recently returned to drawing from life in her London studio, inviting friends and students from her time at the Royal Academy Schools. These portraits strike an empathetic tone with the relaxed and intimate distance created between artist and model(s), their body language at ease with love and contemplation. The figure is central to Cooper's imagery, her compositions underpinned by the complex question of human relationships. Cooper's strong drawing with fluid simplified lines and colourful compositions make her work immediately recognisable.
Eileen Cooper will be part of a group exhibition ' An Intimate Distance' with Craigie Aitchison RA, Natasha Michaels and Jo Taylor at Rabley Gallery in February 21.
LISTEN – Eileen Cooper RA – in her own words talking about the new drawings.
Katherine Jones
A patch of earth holds the promise of growth and renewal. Bound between the space of an urban allotment and her studio, artist Katherine Jones has emerged with a new collection of images that touch on our primordial instincts. The pansy is held in our hearts, it is the simple open face and divided petal form that reflects our childhood innocence, speaks from Shakespeare of love potions, and is symbolically placed in the rhetoric of feminisation.
A painterly crowd of pansy blooms pushes its faces forward. There is a playing of scale, from a tiny complete face, to an enlarged and fragmented petal form. Pansy I and Pansy II are composed of multiple sheets mounted onto aluminium, and divided into the three panels of a triptych.
LISTEN – Katherine Jones introduces her new watercolours and prints reading from her studio notes.
Sara Lee
In Sara Lee's 'Beckoning Lines' the expanse of the landscape has no bearing to assess distance, one is pulled into the nuance of surface.
These intense pastel drawings are made in the studio where, from within each image, the act of making is like walking a cloister. The momentum is stabled by the movement of navigating the paper's surface, retracing the layers, moving into and out of the light, informed by the structure and pace of thoughts.
Natasha Michaels
The origins of Natasha Michaels' recent mono-prints lie in historical portraits from the renaissance to the 19th century. Exploring challenging and at times up-ending traditional conventions and genres, Michaels' work is an investigation of her own ambivalence towards the originals. At once subverting and celebrating, she uses her own expressive language to recast and direct the sitters, reimagining them as fictional characters.
LISTEN – Natasha Michaels introduces her Museum of Contemporary Masters and Mistresses monoprints from her studio in London.
Peter Randall-Page RA
Using only hand tools Peter Randall Page has carved small sculptures with a continuous lines, dividing the surface of a stone into 'territories'.
"The lines appear to bisect their plane, but not as a scalpel does: they partition it with no pretense at economy. They meander like rivers carving up the landscape – you're always on one side or the other, but stick a pin, blindfold, into the map and there's no telling which side it will be" Philip Ball, Scientist and writer.
Randall-Pages sculpture and drawings have always been informed and inspired by the study of natural phenomena and its subjective impact on our emotions. In recent years his work has become increasingly concerned with the underlying principles determining growth and the forms it produces. In his words "geometry is the theme on which nature plays her infinite variations, and can be seen as a kind of pattern book on which the most complex and sophisticated structures are based."
Rebecca Salter RA
Untitled 2020-07 is the first of a new series of work on paper. Salter layers of ink and gouache which 'resisted' to cover/uncover. The materials have a subtle reticulation, giving depth and texture to the surface of the work.
In her works on paper Salter draws on the raw materials of paper and wood blocks, often transferring marks from wood to paper. They are cut, folded and traced to create visual depth of surface.
Rebecca Salter is attracted to the visual sophistication of Japanese prints; the flat colour, the bold, cropped compositions and, above all, the fluidity of the lines are all evident influences on her minimal, abstract works on paper, print and painting.
Emma Stibbon RA
Here we encounter Stibbon's printmaking made over a period of 22 years from 1998 and 2020. El Chorro,1998 a rare early woodcut, hand printed onto Japanese paper. When Stibbon was faced with this 300m gorge in Andalucia, Spain, she set about creating a monumental work that towers over the viewer. The light and detail in this print are mesmerising. Emma Stibbon works solely on paper, in drawing and printmaking. She embraces the paper's fragility and strength as a metaphor for our vulnerable world.
LISTEN – Emma Stibbon talking from her studio about the making of her monumental woodcut 'El Chorro' and recent prints made in the Arctic and Antarctic.
Jo Taylor
In a unique collaboration Jo Taylor has made a series of vessels in response to Natasha's prints. Michaels and Taylor will be part of a group exhibition ' An Intimate Distance' with Craigie Aitchison RA and Eileen Cooper RA at Rabley Gallery in February 21
Jo Taylor 'After' series of ceramics are inspired by the form of Sevre porcelain from the 18th Century. Each is a contemporary reinterpretation of this elegant high-shouldered, voluptuous shape. The surface is embellished with hand formed flourishes in matt, coloured porcelain and fluid brushes of slip that are strike impolite conversations with the material, challenging them into a new articulations.
LISTEN – From Fragonard to Sevre,  Jo Taylor introduces her deliciously voluptuous new vessels!
Ian Chamberlain
The drawings and etchings by Ian Chamberlain are the culmination of a response to The Atlantic Wall.  The Atlantic wall is a WWII German defence system built along the west coast of Europe. These brutalist forms are being interpreted as architectural metaphors concerning boundaries and borders.
The exhibition Ian Chamberlain, Shifting Sand, North Atlantic Wall continues in the gallery throughout January 2021. More works are available by this artist
View film – Ian Chamberlain, Shifting Sands, North Atlantic Wall
RABLEY GALLERY
Rabley Drawing Centre
Marlborough, Wiltshire, SN8 2LW
T +44 (0)1672 511999
Visit London Art Fair 2021 Edit
Rabley News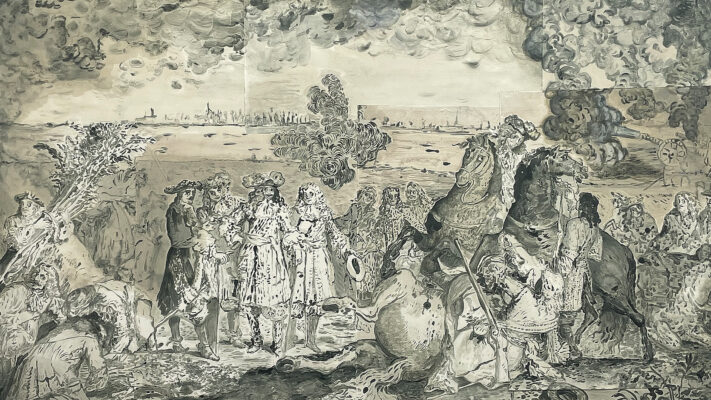 Natasha Michaels is the winner of the Ushaw Residency and Acquisition Prize 2022, awarded last year at the Woolwich Contemporary Print Fair 2022.[More Info]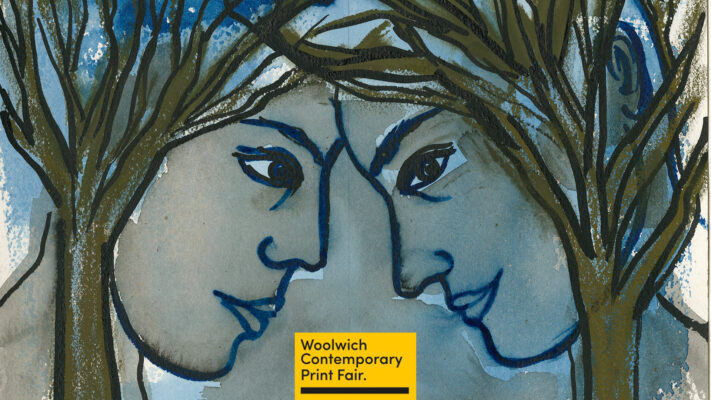 Body and Soul: A new series by Eileen Cooper RA, launching with Rabley Gallery at the Woolwich Contemporary Print Fair 2023[More Info]